Health Threats, Wealth Opportunities
Published: March 30, 2012
by GoldSpeculator
---
March 30, 2012
Scores of wealth creators descend on... the state most hostile to wealth creation. And our own Patrick Cox is leading the charge...
Two of the biggest threats to human health you've never heard of... and the microcap companies on the verge of wiping them out
Gold and the dollar both tread water, delivering 5 for 5 on our "mock trades": To celebrate, we'd like to do you a favor
The agony and the lack of ecstasy in the PIIGS nations: From failed attempts at self-immolation... to high-end hookers walking off the job
Greece's "Potato Revolution"... the real reason parents go into hock to pay for private schools... Jim Cramer picking up where Billy Mays left off... and more!
"California was my home for more than 15 years,"
says our tech maven Patrick Cox. He's on his way back for a rare visit today.
"I left, in large part, because it was obvious that the political culture had become radicalized and intransigent," he explains. "I have a number of friends from California who are right now looking for someplace else to live. They tell me basic services are deteriorating badly in many places."
"The state is planning to raise taxes even further," Patrick adds, "which will make things worse, not better."
Indeed, two out of three voters in a
Los Angeles Times
poll support a "stick-it-to-the-rich" initiative pushed by Gov. Jerry Brown. California's state income tax is already the highest in the nation... and under Brown's proposal, a surcharge would kick in on incomes of $250,000 or more.
We mention this not to carp about taxes and spending. You can read that anywhere. You come to
The 5
to learn about wealth-building opportunities. And few have more potential than the ones Patrick follows: saving hearts, lungs and other essential organs from the ravages of aging.
"I'm going to California this week," he says, "to explain that the real threats to health are not widely understood."
"Fibrosis is a major cause of death that few understand,"
says Patrick by way of example.
"As we age," he explains, "collagen deposition increases and we tend to lose cellular flexibility. You can see it as people become literally 'stiff.' Nearly every kind of organ failure, in fact, involves fibrosis, including heart attacks and strokes."
But fibrosis can be reversed by blocking the activity of "galectin-3s." Those are proteins that latch onto sugar molecules. One of the companies Patrick follows has dozens of patents for substances that will keep galectin-3s in their place. "Currently, these galectin-3 blockers cannot be taken orally, but I have no doubt the company will find some simple way to deliver their drugs.
"The day is coming when routine anti-fibrotic outpatient therapy will be included in everybody's health care regimen. The impact on life expectancies and health care costs will be dramatic and positive."
"Inflammation is an even bigger problem," says Patrick, "as it leads to so many autoimmune disorders."
Indeed, as we've chronicled in
The 5
, a large and growing body of research points to inflammation as the factor that lies underneath nearly every disease of aging. And the most promising anti-inflammatory out there isn't even a drug: It's a "nutraceutical" derived from a substance you find in tomatoes and bell peppers.
One company is all over it; word this week is its sales doubled last year. And with distribution through a major vitamin retailer, that growth is set to accelerate.
Several research studies are under way. One is already complete and public; it shows a dramatic decrease in CRP — a major marker of heart disease — among obese smokers.
Patrick himself sings the praises of the product: "My arthritis has been largely ameliorated," he says. "This, in turn, has turned exercise from a painful chore to fun. I've lost weight, and my cardiovascular health has benefited significantly."
He's even regained his ability to "stand-up paddle" — a sport that took off in the surf of Hawaii and is now a hit among landlubbers, too. "It involves the entire body," he explains, "including the core muscles, which lowers perceived exertion while improving balance and coordination. It's also a blast."
Patrick out for a cruise on his paddleboard...
"I consider it the closest thing to a perfect exercise," says Patrick. And for him, it wouldn't be possible without the pain relief offered by this nondrug wonder. You can well imagine its market potential is nearly limitless.
So what exactly is Patrick doing in California?
Patrick's insights into cutting-edge anti-aging research are so highly regarded that he's the keynote speaker this weekend at the Personalized Life Extension Conference in San Francisco.
This event brings together scores of people who have large amounts of money, eager to drop that money on biotech's most-promising possibilities. It's the second year the conference has been held. Last year's keynoter was PayPal founder Peter Thiel — who himself runs a $700 million hedge fund and a $275 million venture capital fund.
The fact that folks of this caliber have made Patrick this year's keynoter speaks volumes about how eager they are to hear his insights.
Remarkably, though... that's not the most important thing he plans to do on his sojourn to the Golden State.
On Monday, Patrick volunteers himself for a path-breaking experiment.
Scientists will take a tissue sample from under his arm... and using their proprietary technology, transform those skin cells... into heart cells.
This research has been on Patrick's radar for the last four years... and with this experiment, its potential is about to take off at warp speed.
To explain clearly what's involved — and how it will literally change the world — we've assembled an "infographic" that makes the scientific jargon as accessible as possible. We consider it a work in progress... but we guarantee you'll learn something new in the two minutes and 36 seconds it takes to watch.
For the sake of simplicity, there's something really important that we left out of this video. And it's the most important part: The cells produced by this process are new. Young. Healthy.
That's the true potential — to take the diseased heart of a man in his 60s and transform it into the heart of a 20-something. Without the complications that accompany a heart transplant. Or, for that matter, bypass surgery.
That's how big this is. If you skipped over the link to that video,
you really don't want to miss this
.
This breakthrough could literally restore sight to 10 million blind people. And that's just the beginning...
as Patrick shows you here
.
And keep an eye on your inbox this weekend: Patrick will issue a new report about a breakthrough solution to a problem that affects 1.6 million aging baby boomers every year.
Major U.S. stock indexes are rebounding from yesterday's largely flat day. The S&P is back above 1,400.
Traders, the financial media tell us, are taking cheer from the February "income-and-spend" numbers out this morning. Consumer spending rose 0.8% last month.
We see no cause for celebration, since real disposable income fell 0.1%. So Americans are once again spending out of an empty pocket. The savings rate fell in one month from 4.3% to 3.7%.
Within the same report, we see the Fed's favorite measure of inflation — "core PCE" — clocked in at an annualized 1.9%. Right below the Fed's now-official 2% target.
Got that? The Fed doesn't want to hear you beef about your cost of living.
Go eat one of the new iPads
.
Gold has been treading water for the last 24 hours.
At last check, the spot price is $1,663. The bid on silver is $32.30.
The greenback is likewise going nowhere fast.
The dollar index has slipped back below 79, but not much. The euro is at $1.333.
The yen has weakened a bit in the last 24 hours... currently 82.37 yen to the dollar. That bodes well for Abe Cofnas' sample trade. As long as the yen stays below 84.25 by today's close, Abe Cofnas will chalk up five straight winners among the trades we've been following in
The 5
.
To recap...
Week of Feb. 27: A play on the Dow delivered a 24% gain
Week of March 5: An oil play was good for 19.5%
Week of March 12: A copper play picked up a 21% gain
Week of March 19: Back to the Dow. Another 19%
This week: The yen, good for a 24% gain.
And every one of those took place in four days. That's how it works in the market Abe follows, unique among North American newsletter editors.
To celebrate this streak, we're doing something we almost never do: We're giving you one more chance to secure access to Abe's service at a substantial discount.
"In six weeks from start, I have earned a net of $2,300," writes a satisfied reader from South Carolina.
"I made about $500 on these trades — slowly building up confidence," says another from Indiana.
"I played two of the recommended positions for a total cost of $141," says a third from Washington state. "The resulting profit was 77%."
For the last three weeks, we've offered access to Abe's service at half off the regular fee. For readers of
The 5
only, this offer is now extended... but only through midnight tonight. After that, it's over.
Don't miss out
.
Go figure:
A guy in Georgia protests the system giving him a raw deal by blowing himself up and U.S. media
ignore it
. But two men in Italy set themselves alight, and it's all over Drudge.
One is a migrant worker from Morocco who hadn't been paid for months. The other is a businessman who owed thousands of euros in back taxes.
As it turns out, both men survived their attempts to burn themselves to a crisp. Good thing too, seeing how Italian Prime Minister and Goldman Sachs alum Mario Monti said only two days ago the eurozone crisis
"is now almost over."
But don't tell that to folks in Greece, where the modern food distribution system is breaking down.
Witness the "Potato Revolution" launched two weeks ago in Katerini.
"A group of local activists set up a website to allow people to order potatoes directly from local farmers and then pick them up in a parking lot on the weekends," according to France 24.
Farmers get a higher price than their distributors paid, while consumers pay a lower price by bypassing the middleman. "They've already sold 100 tons of potatoes," the news channel reports. "Dozens more cities across Greece are planning to follow suit."
"I believe the potato sales have gained such popularity," says organizer Elias Tsolakidis, "because we're all united now — there are no real social classes any more; everyone is struggling."
Times are tough even for Spanish bankers... who are being denied the services of Madrid's high-end escorts.
The union representing the escorts has launched an "indefinite" strike until the banks start lending to families and small businesses again.
"We are the only ones with a real ability to pressure the sector," says an anonymous spokeswoman. "We have been on strike for three days now and we don't think they can withstand much more."
Indeed, she says some of the bankers have tried to pass themselves off as engineers or architects. "But they don't fool anyone since it has been many years since these professionals could afford rates that start from 300 euro an hour."
"So private school costs are up 26% in five years,"
a reader riffs on a topic yesterday, "and upper mids are going into debt to keep their kids in them.
"Isn't that a status bubble? What happens when it bursts, and all those families decide to pull their kids out? Will all those schools have to shut down?"
"You're WRONG,"
a reader says of our musing that taking out loans for kindergarten is typical of, well, a status bubble.
"Our family was LOWER middle class when our kids were in elementary school, and I called every private school in our county asking what their tuition rates were. Of course, we couldn't afford it, but I wanted to send my kids to a better school."
"Why? The government schools suck! I guarantee you I received a better primary education in the '60s than my kids did in the '90s. (Of course, they had to attend government schools.) I think this shows how desperate parents are for their kids to get a decent education. Mull that one, dudes..."
"I no longer have children in school,"
writes another, piling on, "but I know people who do and sacrifice to put them in private school.
"The reason is not to be snobbish upper class but because they are desperate to keep them away from the liberal teaching in the public school and have them get a decent education. The people I know do not have incomes as high as mentioned in
The 5
but go without new cars and vacations in order to pay for the schooling. If your choice is a big city school or finding a way to pay for private, you will try to find a way."
The 5:
Good point. Makes us wonder, though... Which is more, um, cost-effective? Going into hock for a private-school education... or one parent staying at home and home schooling?
That the question even occurs to us is one more sign of how the middle class has been eviscerated in the four decades since the advent of the
Great Dollar Standard
.
"He is probably doing the right thing,"
says the previous reader, pivoting to the fellow in Tampa who plans to skip town the week of the Republican Convention.
"With the new crazy laws, you could accidentally walk out of a building and into a protest deemed 'unlawful' and arrested even though you know nothing about the people protesting and were just trying to get to your car."
"Most people should stay away from any political speech. After reading about the book that says you can do
three unlawful acts every day without knowing
, you had better be careful just going to the grocery store or church, let alone being around a politician."
"Are we in a market top?"
our final correspondent inquires. "It has been stated that when stock trading goes mainstream in a big way, that helps provide a feverish atmosphere to stock values and signals the end is soon."
"I had to get up at 2 a.m. and turned on the TV and who was screaming at me? A vacuum cleaner guy? No. A real estate guy? No. None other than Jim Cramer's
Mad Money
! He was blasting at me with all kinds of stock tips — on my local TV channel at 2 a.m."
"It's got to be a bad sign. Normally, he is on a cable channel, not local TV."
The 5:
Indeed, the NBC broadcast network started airing
Mad Money
reruns this month in the middle of the night, replacing reruns of Jay Leno/Jimmy Fallon.
Fitting that Cramer's now slumming it out with the infomercial crowd...
Have a good weekend,
Dave Gonigam
The 5 Min. Forecast
P.S.
Absolutely last chance, exclusive for readers of
The 5
: Half-price access to Abe Cofnas'
Fear & Greed Trader
closes at midnight tonight.
Here's where to sign up
.
Thank you for reading The 5 Min. Forecast! We greatly value your questions and comments. Please send all feedback to
5minforecast@agorafinancial.com
__________________
By using this site you are agreeing to the terms of our
disclaimer
.
Search Gold Speculator Articles
Similar Articles You May Enjoy
Currently Active Users Viewing This Thread: 1

(0 members and 1 guests)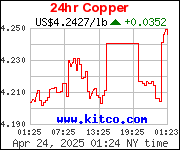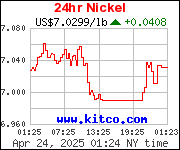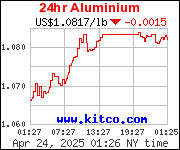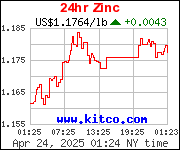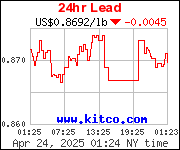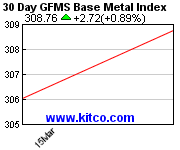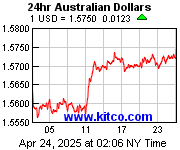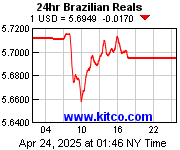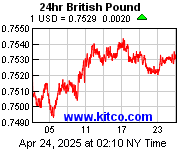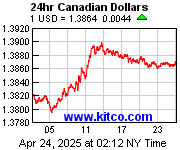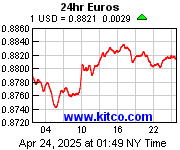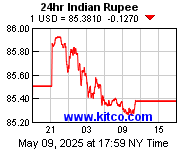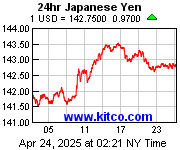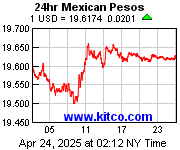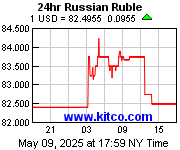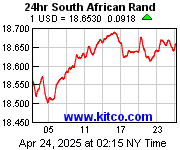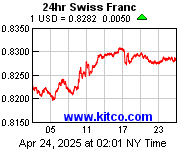 What do you think? Your comments are welcomed.
We appreciate all of your comments and feedback. You need to be registered in order to post comments. You can register here, or sign in. if you have a comment off topic you can post it in our forums section.