How Vietnam Won the West
Published: April 10, 2012
by GoldSpeculator
---
April 9, 2012
World Right Side Up in real time: Foreigner buys his own ZIP code in Wyoming...
A delayed snit: U.S. stocks take a beating... one unlikely reason the unemployment numbers are as grim as they look...
Why gold's mugging in March was a "nonevent"... a look ahead at the Midas metal... Cofnas tries to make it lucky number seven — this time, in oil...
Cancer drug fraud highlights a legit opportunity in weight loss...
The nation that could triple its rice exports and grow its mineral exports 25-fold... and the proof it can be done
Opening a can of worms in Bur... er... Myanmar... the sad case of Andrew Wordes... the real revolution taking place — at the lowest possible rate — and more!
Bids started at $100,000 and ended at $900,000 in an online auction that took all of 11 minutes.
And with that... the town of Buford, Wyo. — whose "for sale" status we noted in
Thursday's 5
— went to a mysterious man from Vietnam. He flew in from Saigon to attend the event in person.
"Owning a piece of property in the U.S. has been my dream," the buyer said in a statement put out by the auction house.
For his $900,000, the buyer gets about 10 acres of hardscrabble off I-80 between Cheyenne and Laramie, a three-bedroom house and a gas station. No word exactly what he plans to do with the property.
Another example of the
World Right Side Up
?
U.S. stock traders are releasing three days of pent-up frustration today.
The market was closed for Good Friday, but the federal government was not. So the Bureau of (much be) Labor(ed) Statistics (BLS) dutifully released March nonfarm payroll numbers Friday morning at 8:30.
It wasn't good.
So after a three-day weekend, traders are hitting the "sell" button harder than a patient in therapy hits a pillow. The Dow has tumbled decisively below 13,000. The S&P gapped down to 1,381 on the open.
The jobs report claimed employers added a 120,000 jobs in March — barely enough to keep pace with the growth in population. The figure was lower than even the most pessimistic guess among dozens of "experts" polled by Bloomberg. The "recovery" yarn they've been spinning took a turn for the dramatic.
More telling, all but 30,000 of those jobs were, for lack of a better word, imaginary. Ninty thousand jobs were added as a result of the "birth-death model" calculation used by the BLS.
The "birth-death model" is a statistical assumption composed of two parts:
a) The BLS assumes that if a business closes down, another will open in its place. So they don't count businesses that close.

b) An estimate of the number of businesses "born" and "died" over the past five years.
If you've got a $h!t ton of free time on your hands and want to waste some of it... try going to
this site
and figure out how BLS quants actually calculate these numbers. Who knows, you may actually enjoy the searing headache the language used on the site will give you.
In the meantime, we'll give you the quick and dirty: The U-3 unemployment rate — the one most often cited by the press — fell to 8.2%... but only because more people dropped out of the work force.
Tracking a better number: The percentage of the working population in the labor force fell to 63.8%. The percentage of the overall population that has a job fell to 58.5%.
Both figures remain mired near lows last seen as when we were told it was "morning in America" by Ronald Reagan:
Meanwhile, U-6 unemployment, which includes people who've given up looking for work and part-timers who want full-time gigs, stands at 14.5%.
And further, if you like your unemployment number straight, no chaser, John Williams at ShadowStats.com also includes people who gave up looking for work more than a year ago. Williams' take gives us an unemployment number more or less of the variety Walter Cronkite reported back in the day.
Last month, that number was 22.2% — the lowest in a year. Bummer.
After getting mugged last week, gold is slowly getting up and dusting itself off. At last check, the bid is $1,643.
Silver is no longer flat on its back, but it's also having a lot of trouble standing up. It's recovered ever so modestly, to $31.81.
"Investing, like life, is about managing expectations,"
says U.S. Global Investors chief Frank Holmes, inspecting the crime scene.
His conclusion: The metals have been wandering through a bad neighborhood. "The 1.7% drop experienced over the past month shouldn't surprise gold investors, given the seasonal pattern for gold," he says. "Whereas gold rises nearly 2% in both January and February, over the past 11 years, it's been a nonevent for gold to correct in March":
"In addition," Frank points out, "it's a good reminder that bullion has historically been less volatile than the stock market: The 12-month rolling volatility over the past 10 years for gold was 13%. For the S&P 500 Index, the 12-month rolling volatility over the same period was 19%."
Bet you didn't know that, did you? In a typical presentation at our annual shindig in Vancouver, Frank will toss out a dozen things you didn't know before. Little wonder he's always among our most popular presenters... and we're delighted to have him back again this year.
This year's event is less than four months away. For the dates — and your chance to get the biggest discount on registration that we offer —
give this a look
.
Crude begins a new week down sharply. At $101.70, a barrel of West Texas Intermediate is near a two-month low.
"With uncertainty on U.S. as well as global growth, crude oil is showing the stress," says our monitor of market sentiment, Abe Cofnas. "Technically it's in a descending triangle. Continued weakness is likely. Even more likely is the inability for U.S. crude to rise very far this week."
Which brings us to Abe's suggested trade of the week, for demonstration purposes only: He's counting on crude to stay below $105.25 this week...
At the simplest level, by following this trade, you'd put $89 at risk. As long as crude doesn't spike above $105.25, you would get an $11 return. That's a 12.3% gain.
"This is not a high-roller play, but an 'income for the week' strategy!" Abe says. He's gone 6 for 6 on these mock trades since we inaugurated them in
The 5
on Feb. 27. In the market he follows, everything plays out between Monday and Friday... so we'll know the outcome by week's end. Stay tuned...
Twice since February, the FDA has stumbled on counterfeit versions of the anti-cancer drug Avastin.
In the most-recent case, U.S. medical practices bought 120 vials of counterfeit meds — lacking the most-important ingredient.
The fraud has been brought to our attention by our biotech man, Patrick Cox, because it highlights a completely legitimate investing opportunity — one that could prove far more lucrative than shipping phony anti-cancer drugs.
Avastin "targets the capillaries that supply blood to cancer cells,"
explains Mr. Cox. "Researchers have realized over the past few years that capillaries that nourish tumors may look like the capillaries associated with healthy tissues, but they are actually quite different.
"In fact, our bodies have very specific markers. Some are referred to as ZIP codes. Cells on the left side of your face, for example, may have a different ZIP code than those on the right side."
It's these "ZIP codes" discovered in the Avastin research that could unleash a permanent solution for a less dire — but far more widespread — condition.
"Americans today spend $65 billion a year on weight-loss products,"
Patrick informs us.
And to little effect — for reasons he reminded us about last week — most treatments try to fool the brain into suppressing its cravings. It works... for a while. But getting weight off is one thing. Keeping it off is another... as too many people know too well.
"That's why this is such an exciting breakthrough," says Patrick of some revolutionary research. "It doesn't work on the brain to lessen the power of the cravings that are generated by shrinking fat cells. It's trying to eliminate the fat cells themselves. In other words, it would attack the REAL problem."
And it does so in the same way Avastin goes after cancer cells. Only in this case, it goes after fat cells, or white adipose tissue (WAT).
"Scientists have designed treatments that hone in on the vasculature of the bad fat cells and turn them off," Patrick explains. "The WAT cells are then absorbed harmless. In primate studies, obese monkeys given the treatment quickly became slim. More importantly, all their metabolic markers returned to healthy levels."
Clinical trials are set to begin this year. And the microcap company developing this treatment isn't even putting up the cost. That's being footed by the cancer research group that helped develop Avastin.
That's how much potential scientists see in this truly permanent weight-loss solution.
[Ed. note:
Patrick is understandably eager to tell you all about the company behind it. He's put together a special report about it for new readers of his premium advisory,
Breakthrough Technology Alert
.
Current readers rave about Patrick's previous picks. "The $45,000 profit I made... is staying in my portfolio," writes one from Texas. "I'll... invest in more of your future recommendations."
"I want to thank Patrick Cox for his recommendations of [stocks]," writes another from Arizona. "They have made me over $500,000!"
"Of my dozen or so newsletters, yours is the most fun and the most scholarly," enthuses a third from South Carolina. "I bought 500 [Company] at $4.45 and sold at $15.88, tripling my stake."
You can join the satisfied ranks of these readers... and at a substantial discount, we might add. Discounted access to
Breakthrough Technology Alert
remains available... but only for a few more hours.
This offer comes off the table at midnight tonight
.]
The nation that was once the world's biggest rice exporter is starting a long, slow climb to reclaiming that title.
Myanmar — still known to many as Burma (that's a story in itself, below) — expects to bump up its rice exports to 1 million tons this year, thanks in part to tax breaks for rice exporters.
That's an impressive 20% increase in a year. But in the historical scheme of things, it's nothing. Myanmar "was the world's biggest exporter of the grain under British colonial rule," says Reuters. "It shipped a world record 3.3 million tons in 1934."
Indeed, during the 1930s, "Burma's economy, on a per-capita basis, was at least twice that of China's," says Chris Mayer. "Today, China's is about six times as great. That is a gap that ought to narrow as Burma opens up."
"Simple geography also anchors Burma's importance," Chris adds. "It sits between China and India like a hinge. It is a big country, the size of France, with 60 million people. Thant makes Burma's unique position clear. If you draw a 700-mile radius around Mandalay, Burma's second-largest city, you encompass a population of 700 million people — nearly one in 10 of all the people on the planet."
Myanmar has a long road ahead. Six-plus decades of socialism, followed by military dictatorship, will do that to a country. But if the nation were to reclaim its earlier prowess... not only would rice exports triple, mineral exports would grow 25-fold. Burma, in other words, is slowly
turning right side up
.
"The country has been known as Myanmar for 10-plus years now, and it should be called as such, not Burma,"
says a mildly irked reader from Malaysia who caught our otherwise favorable takes on the place last week.
"Look into the history of the name "Burma," and you may appreciate why people from Myanmar do not like the name. If you are going to be excited about a place, please call it by its proper name."
"We ain't gonna change its name back to Burma."
The 5:
Hmnn...
"Since first visiting the country during the violent protests in 1988," wrote
The Atlantic's
James Fallows in 2007, "I've followed arguments about the twists and turns of what to call the country
in Burmese
."
"But when it comes to referring to the nation
in English
, there's little debate. Myanmar is the name invented 18 years ago by the benighted junta. When Westerners say 'Myanmar,' they're not being culturally respectful to the people of a beautiful but oppressed nation. We don't call China
Zhongguo
or Germany
Deutschland
just because the locals do."
We're not taking sides on this one.
"Most seem to see Andy Wordes as an act of ultimate frustration and despair,"
writes one of our regulars, bringing us back to the front lines of the revolution.
"How about a man who stood tall, fiery middle finger raised, and proclaimed to the powers that be, "F*** Y**," in a voice they couldn't argue with or do anything about except to try to shut it up."
"There will always be a few Andys, some of whom will demonstrate near Chicago and near the national conventions ('near' — don't forget the new security zones, which can be used to legally stifle opposition)."
"In general, however, there aren't enough 'pairs' in the collective dried-up cojones of the American sheeple to be meaningful."
"'Hey, did you hear about the riots in Chicago?'"
"'Yeah, heavy stuff. But do you think that Joe Schmuck will win
American Idol
?'
"Not with a bang, but with a whimper — or not even the whimper."
"Regarding Andrew Wordes,"
writes a reader we suspect would disagree, "it seems his city council should be removed bodily by the citizens — feet first if necessary."
"I'm thinking that if more 'fatal accidents' happened to those malicious, power-mad functionaries and corrupt politicians, they might gain more respect for the little-man citizen. They say the government should fear and respect the people, instead of vice versa. Yet observing those worthys and their security measures, I'm sure they do — justifiably — fear us."
"Some have said that if a person carefully removes another — and never repeats the act — that person stands a good chance of getting by with it. Then again, if he doesn't... a man has to believe in something bigger and more important than himself."
"But then I would never condone violence. 'The tree of liberty should sometimes be refreshed...'"
"I am an electrician,"
a reader writes with another Wordes-like conundrum, "who has been doing quite a bit of work in the federal courthouse in our city for the last two years. I had to have a background check and fingerprinting about 2 1/2 years ago so I could work in there."
"Just recently, I was told I could not work in there any longer because my little fingerprint didn't come out. After two attempts, it was the same thing. I volunteered to go in and talk to them."
"No use."
"The sad thing is the security company that guards the court is a subcontractor of some company in Kuwait. Go figure. Man, we are screwed."
Amen,
Addison Wiggin
The 5 Min. Forecast
__________________
By using this site you are agreeing to the terms of our
disclaimer
.
Search Gold Speculator Articles
Similar Articles You May Enjoy
Currently Active Users Viewing This Thread: 1

(0 members and 1 guests)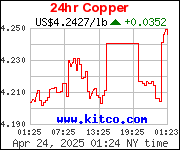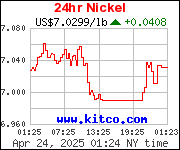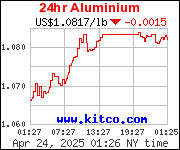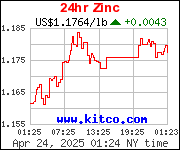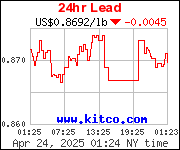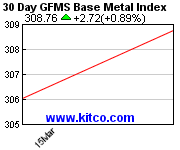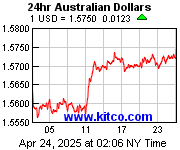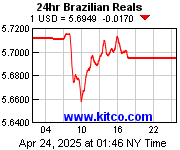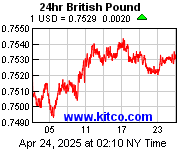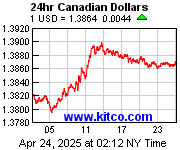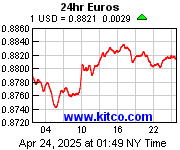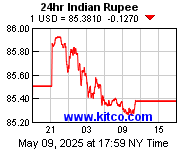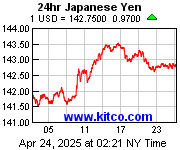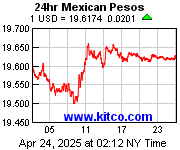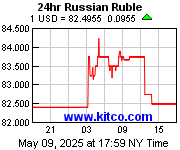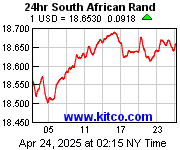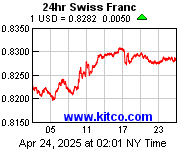 What do you think? Your comments are welcomed.
We appreciate all of your comments and feedback. You need to be registered in order to post comments. You can register here, or sign in. if you have a comment off topic you can post it in our forums section.