Occupy May Day!
Published: May 01, 2012
by GoldSpeculator
---
May 1, 2012
Occupy and May Day merge into one hideous "work isn't a choice" mess: Prestigious historian discovers a European import Americans would do well to keep out
"Physical" versus "paper" gold... and a doomsday scenario for the precious metal ETFs
Lehman rated "outperform" 47 days before going belly up: Fed throws open document trove, hilarity ensues
Coincidence or conspiracy? The perils of writing in to The 5... Ron Paul squares off with Paul Krugman... Addison's new book now on sale... and more!
The U.S. market opened without a hitch today. The Occupy movement didn't come close to shutting it down... or anything else, for that matter.
"Occupy Wall Street's call for a general strike to mark International Workers Day got off to a slow start on Tuesday," says a Reuters account, "with sparse gatherings at a handful of spots around a rainy New York City."
Welcome to your May Day episode of
The 5
— an event we always mark with a tip of the chapeau to the crew at
Red Emma's,
the coffee shop and bookstore two doors down from Agora Financial headquarters... where this sign is displayed at the entrance today...
"Red Emma's Bookstore Coffeehouse," says its Wikipedia entry, "is a radical infoshop located in Baltimore, Md., USA and run by a worker-owner collective."
For years, it's kept many of your favorite Agora Financial publications fueled with an appropriate amount of caffeine. "Funny, though," Addison said this morning, "last year we got a Keurig at home. At least in my life anyway, the collective has been replaced by a machine!"
Pity, that. Perhaps the collective can take up the rallying cry of the Occupy Chicago movement...
Whatever happened to taxing the 1% into oblivion?
In Europe, no one had to call a "general strike" for May Day... because it's already a public holiday.
"Banging drums and waving flags, hundreds of thousands of workers marked May Day in European cities Tuesday," says an Associated Press story, "with a mix of anger and gloom over austerity measures."
"Austerity" is the accustomed shorthand for spending cuts and tax increases to shore up government balance sheets — or more to the point, to shore up the balance sheets of the banks that were stupid enough to lend to governments.
On the one hand, we can't blame the Europeans if they're angry about these bailouts-by-stealth... but on the other hand, didn't their governments get in hock to the banks because these folks discovered how easily they could vote themselves benefits from the public treasury?
"Spreading across the Atlantic from Europe is an anti-risk culture,"
says Niall Ferguson — the historian and prolific author who holds posts at Harvard, Stanford and Oxford.
This "anti-risk culture" makes itself felt in two ways, he says in a
Barron's
interview. "One is the welfare state, designed to remove risk from your life by guaranteeing you an income from the cradle to the grave."
"That's great because it means that nobody is starving in the streets for want of work. But it isn't great if you create poverty traps and disincentives, so that people in the bottom quintile never work, which is the case in much of Europe."
"The other way in which the anti-risk culture manifests itself is with the manic regulatory mentality that tries to prescribe rules for every eventuality, including the tiny, tiny risk that an asteroid will hit this building."
"Regulations that protect from every eventuality end up being paralyzing because the more things are proscribed, the more the ordinary entrepreneur has to be afraid that if he doesn't comply, he will get sued."
This latter theme is at the heart of Addison's documentary
Risk!
"It isn't just the tax code," Ferguson adds. "It's an incredibly complex accumulation of regulation and legislation, the net effect of which is to make it harder to be an innovator and entrepreneur."
"When countries improve rule of law, property rights and investor protections, and when regulation becomes more transparent and corruption reduced, there are major payoffs. The World Justice Project says the U.S. has been deteriorating for close to 10 years by all these measures, which contrasts with improvements in some emerging markets, like Hong Kong."
Meanwhile, Ferguson sees a crucial shift taking place in China... a phenomenon he's sure to talk about in July at the Agora Financial Investment Symposium in Vancouver. There, he'll take up issues you won't see him discuss in
Barron's
, or in his latest book,
Civilization
, or the public television series based on the book. It's information that will make a world of difference to your portfolio.
We'd be delighted to see you there; better yet, we'd be delighted if you could secure your spot for hundreds of dollars off the regular fee.
Which you can still do for the next 36 hours
.
U.S. stocks are up big today.
Among major indexes, the Dow is the laggard... but it's scraped its way past 13,300 to the highest level since December 2007.
The bulk of the market's move came a half-hour into trading...
when the ISM manufacturing survey came in stronger than anyone in the "expert consensus" had imagined.
Recalling that 50 marks the dividing line between expansion and contraction, the number grew from 53.4 in March to 54.8 in April, the strongest showing in 10 months. What's more, the biggest driver behind the number was new orders.
Because the rest of the world has synchronized the release of its own manufacturing numbers with that of the United States, we note the following...
China: Up from 53.1 to 53.3. That's five straight months above 50
United Kingdom: Down sharply from 51.9 to 50.5; not a surprise considering that by some measures, Britain has sunk into a new recession
Eurozone: Oops, as we noted above, May Day is a holiday there. We'll have to wait till tomorrow. (You think that might have something to do with the fact the number's been mired below 50 for months now?)
"Total awesomeness!"
enthuses Fusion IQ founder Barry Ritholtz, who's dug into a stash of emails and documents pertaining to the epic collapse of Lehman Bros. The New York Fed put them online this week.
"Some of the emails between Lehman execs are laughable — naive, silly, hubristic, childish," he says.
"But my favorite piece simply has to be the Morgan Stanley research report from June 30, 2008. It gives an 'overweight' rating to Lehman under the title: 'Bruised, Not Broken, Poised for Profitability.'"
That was 47 days before Lehman vaporized.
"This is (literally)," says Mr. Ritholtz, "what the category 'Really Really Bad Call' was invented for."
But that's not the best part, nor what brings out his most colorful language: "Who was the author of this steaming piece of $@#*, and where is he today? Why, he is Patrick Pinschmidt, and he is a senior policy adviser at U.S. Treasury Department!"
"You could not make up stuff this un-#($*ing-believable even if you tried."
For obvious reasons, Mr. Ritholtz has become a favorite at our gathering in Vancouver. It's like a live and in-person version of his Big Picture blog — only with more information you can put to work in your own investment holdings.
Won't you join us?
Gold has resumed a laborious two-week climb upward.
At last check, the spot price was $1,669.
Silver's pushed back above $31, to $31.22.
"Does it hold true for gold?"
a reader writes after seeing Chris Mayer's remarks yesterday about exchange-traded funds. "Lots of fast money in all of those ETFs," this individual remarks.
A good question, and one that spotlights the difference between the "paper" market for gold — dominated by ETFs and futures — and the "physical" market that seeks out the real thing.
"Although the paper gold price has been range-bound over the past month," says the April letter from Sprott Asset Management, "the physical gold market has been undergoing staggering change."
"It was revealed," write Eric Sprott and David Baker, "that Hong Kong gold imports into China totaled nearly 40 tonnes in the month of February, representing a 13-fold increase over the same month last year."
And that's not a one-off event; Chinese gold imports during the last eight months have grown nearly eight-fold year over year. And as we noted a few days ago, China's hardly alone: The IMF says 12 countries bought 58 tonnes last month — with Mexico, Turkey, Russia and Kazakhstan leading the charge.
"There isn't a physical market on Earth that can withstand that type of demand increase without higher prices over the long run," Sprott and David Baker write.
Meanwhile, Cheviot Asset Management reckons for every one bar of physical gold, there are 100 open positions in the "paper gold" market.
"The paper market for gold can continue its charade," write Sprott and Baker, "but demand in the physical market will soon overpower it through sheer momentum – there's only so much physical to go around, and it appears that there are some very large buyers that are eager to take it."
This potentially leads to a "doomsday" scenario in which the physical price breaks away from the paper price: If you want a coin or a bar, the price you pay will be far, far higher than the price on the CNBC ticker. What happens to the metals ETFs then? You might not want to be around to find out.
[Ed. Note:
One of the key members of the Sprott team, the one and only Rick Rule, will be back this year in Vancouver. If you have the stamina, you can show up in the main hall at 6:45 in the morning and ask him a question about the most micro of microcap resource stocks... and he'll have an opinion grounded in exhaustive research.
Last year's Symposium was full up by Memorial Day. This year, we anticipate it happening even sooner. We don't want you to miss out... especially not when you can still snag an early-bird discount. You'll want to move quickly, though —
this discount expires tomorrow at midnight
.]
"Not likely a 'coincidence,'"
says a reader who noticed the fellow reader who wrote in and then got an IRS audit notice.
"He should ask the agent how he was chosen and then do a FOIA request to confirm — 99% sure he will find out due to his e-mail."
"Just like me when I complained about IRS and my name published. This is how people are made to shut up."
"Welcome to Amerika."
The 5:
Published? Where? Not here; at most, we'll identify a reader by where they live. And not very specifically. Been our policy for all of our five years...
"Great discussion,"
writes a reader from Wisconsin [See?], "between Rep. Ron Paul and Paul Krugman on federal spending and Federal Reserve policy. From my reading of Agora articles, I actually understand the arguments."
The 5:
Thanks for the shout-out: Indeed, the two faced off yesterday on Bloomberg...
"Krugman," the reader goes on, "made the case for more stimulus spending and accepting a 3-4% inflation rate target and Congressman Paul made the case that you destroy the return for savers and the value of the money, that you're stealing from savers."
"So to avoid the destruction of paper money, buy gold or real assets."
The 5:
Savers? Savers!? Since when did Krugman and his ilk ever care about savers?
Cheers,
Dave Gonigam
The 5 Min. Forecast
P.S.
"
The Little Book of the Shrinking Dollar
," writes the aforementioned Ron Paul, "does an admirable job of highlighting the dangers of the Federal Reseerve's monetary policy."
"Americans from all walks of life," he says, "will see their savings dwindle as the dollar's purchasing power is further weakened. Wiggin's exploration of investment alternatives warrants a closer look."
We just got a shipment of 300 copies of Addison's new opus. Even at a tight 223 pages, it's put our office space is at a premium. To learn how your wealth is at risk and what you can do to protect it, you'd do well to
get a copy to call your own
.
Thank you for reading The 5 Min. Forecast! We greatly value your questions and comments. Please send all feedback to
5minforecast@agorafinancial.com
__________________
By using this site you are agreeing to the terms of our
disclaimer
.
Search Gold Speculator Articles
Similar Articles You May Enjoy
Currently Active Users Viewing This Thread: 1

(0 members and 1 guests)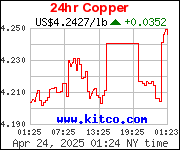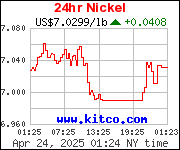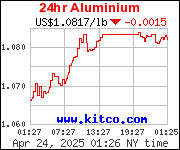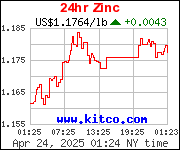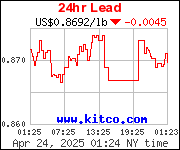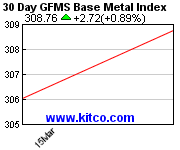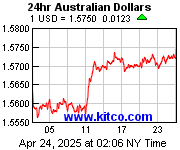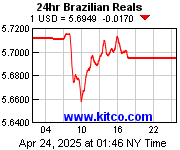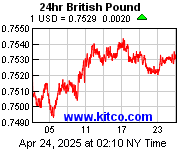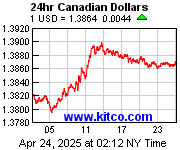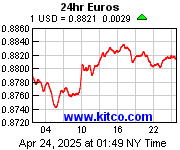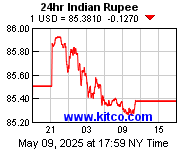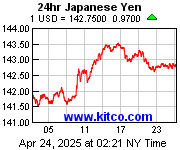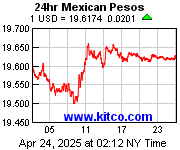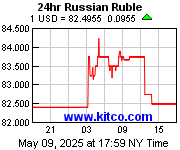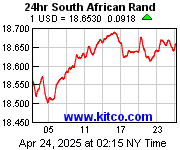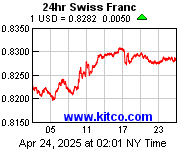 What do you think? Your comments are welcomed.
We appreciate all of your comments and feedback. You need to be registered in order to post comments. You can register here, or sign in. if you have a comment off topic you can post it in our forums section.