Casey's Daily Resource Plus - Apr 29, 2009
Published: April 29, 2009
by GoldSpeculator
---
In Today's Edition
Precious metals pounded - Silver, platinum especially hard hit as traders conserve cash.
Euro gains on dollar - Traders find positive signs in day's numbers.
Oil slightly lower - Traders reminded of demand destruction caused by SARS.
Base metals flogged - Effect of flu outbreak on economy worries investors once again.
Precious Metals


Gold was initially lower in Hong Kong but traded flat through to the New York open on Tuesday, at which point it plunged about $13 in a half-hour, before riding a gently rising uptrend for the rest of the day, to finish at $893.30/oz., down $12.90. Overnight, gold is slightly higher.
Platinum fared very poorly again, falling from the overseas markets through the first hour in New York, to as low as $1070 before catching a slight updraught, then trading sideways for the rest of the day, and ending at $1091, down $49. Overnight, platinum has been flat.
Silver also traded sideways through Hong Kong after an early plunge, then got taken down through London to late in the New York morning, when it finally perked up to the tune of only about 10 cents, and was flat to a close at $12.49/oz., down 41 cents. Overnight, silver is little changed.
The Price of Things
Resource
Last
1 Week Ago
3 Months Ago
1 Year Ago
Gold
893.90
883.50
887.10
891.00
Silver
12.48
12.03
11.99
16.96
Platinum
1087.00
1152.00
949.00
1972.00
Palladium
214.00
221.00
189.00
437.00
Copper
1.89
2.03
1.47
3.97
Nickel
4.87
5.20
5.23
13.19
Zinc
0.50
0.50
0.50
1.03
Uranium
42.00
40.50
48.00
65.00
Oil
49.62
49.87
44.81
116.78
Gas
3.32
3.51
4.48
11.28
The precious metals all took a serious beating yesterday, with platinum (down 4½%) and silver (off better than 3%) leading the way. That wasn't very good news to fanciers, since the dollar moved lower, which usually creates expectations that gold in particular is going to move higher.
Thus it wasn't so much a rush into the dollar as it was simply a desire to raise cash on the part of many market participants.
"Cash conservation seems to be foremost in traders' minds," said George Gero, a precious-metals trader for RBC Capital Markets. "Sellers in gold, crude, and copper appeared from funds interested in raising cash, concerned with swine flu hurting economies and more uncertain outcome of automobile bailouts."
The World Health Organization raised a global alert to the highest ever and said swine flu can no longer be contained after spreading to the U.S., Canada, Europe and New Zealand from Mexico.
It may be a little counterintuitive that gold wouldn't maintain its safe haven status in the face of economic disruptions brought about by the flu outbreak, and it may yet reassert itself in this regard. But the same is not true of silver, which is more tied to industry..
But John Reade of UBS in London pointed out the flip side, that "considering Mexico's position as the second-largest producer of the metal … supplies could be interrupted if the virus continues to spread."
Platinum, even more industrial than silver, took the worst beating. "[Yesterday's] fall-off-a-cliff move in platinum's price has done serious damage to bull-trending forces," wrote Ralph Preston, of Heritage West Futures in San Diego. "A push under $1,069 an ounce projects a move down to $1,039 and sets the stage for a test of $1,002 … Only a close over $1,194 an ounce reinvigorates the bulls. Until then, the bears are free to run wild."
News You Can Use:
Almaden Minerals Ltd. is an exploration company specializing in the generation of new minerals projects with world-class potential. The company's business model is to option their properties to other companies which then carry the cost of all further exploration in order to earn a share in the projects. By building such partnerships and maintaining a carried interest in a large number of properties, Almaden significantly reduces the risk and cost of exploration while exposing shareholders to the greatest opportunity for wealth creation from discovery. Using the management's technical acumen, geologic database and state-of-the-art exploration technology and methodologies, Almaden has created a significant track record of identifying prospective mineral properties. Almaden currently has over 40 properties in our portfolio, 14 of which are currently optioned.


Currencies and Economic News


In the currency market, the dollar slipped against the euro. Late Tuesday, the euro was trading at $1.3141 vs. $1.3039 on Monday.
Traders were squaring long U.S. dollar positions ahead of Wednesday's Fed decision and first-quarter GDP release, according to Michael Woolfolk, senior currency strategist at Bank of New York Mellon.
"The event risk of these events may limit appetite for fresh U.S. dollar exposures, with renewed U.S. dollar buying likely to resume if first-quarter GDP disappoints or the Fed announces further QE [quantitative easing] measures," Woolfolk said.
The day's numbers provided some support for an expansion of risk.
The Conference Board reported that its U.S. consumer confidence index jumped to a reading of 39.2 in April from 26.9 in March. The month-over-month gain was the fourth-largest ever in the 32-year history of the survey.
At the same time, Standard & Poor's Case-Shiller home price index declined in February, as home prices in 20 major cities fell 2.2%. But that was good news of sorts, since it was less than the 2.8% drop in January. It was also the first time in 16 months that the year-over-year decline in prices did not set a record.
For what it may be worth, prices are "no longer falling off a cliff," wrote Patrick Newport, of IHS Global Insight. "Instead, they are rolling down a steep hill."
Energy


In the energy market on Tuesday, crude for June delivery backed off, slipping below $50 to close at $49.92/barrel, down 22 cents. May reformulated gasoline dropped just under a penny, to $1.3995/gallon.
Analysts said the day's action was all about fear once again, as the concern is that a spreading swine-flu outbreak will curtail travel and delay recovery in the global economy, in turn reducing oil demand.
"The disease brings SARS and the resulting collapse in Asian oil demand to mind," wrote Hussein Allidina, a commodities analyst at Morgan Stanley.
Allidina added that, "Oil's recent rally has been fueled by the green shoots of economic recovery, and the outbreak will draw attention to the fragility of the recovery, and hence the basis for oil's rally."
However, "if the outbreak remains contained, its impact will be much less significant than SARS," Allidina said.
Base Metals


The base metals were all in the red again on Tuesday. Copper declined from the pre-dawn hours straight through, save only for a brief late morning bump, and finished just off its intraday lows at $1.8922/lb., down 7 1/3 cents. Nickel plunged in the late pre-dawn hours, falling below $5, and stayed below the mark through a rally at the New York open, then was hit with more late day selling to close at $4.867/lb., down 15 1/3 cents. Zinc had a moderately down day, ending at $0.5935/lb., down two-thirds of a cent. Aluminum was little changed, shedding just over a tenth of a cent, to $0.6339/lb., while lead continued to plummet, giving up another 2½ cents to its intraday low of $0.5825/lb.
Copper led the industrial metals down, falling to a 3-week low yesterday, as a second day of swine flu worries, added to ongoing concerns about the health of the economy, weighed down the market after last week's breakout of optimism.
"Sentiment in the market seems to have soured a bit," said Tom Hartman, of Altavest Worldwide Trading in Mission Viejo, California. "We went from a great rally in the first quarter of the year to just a bear market rally ... there's a lot of turmoil out there."
Gayle Berry, an analyst at Barclays Capital in London, added that, "The concern on the economy that the swine flu has created really dented investors' sentiment … We've also seen much lower LME volume, indicating the flurry of buying we've seen in the past has cooled down."
While Matthew Zeman, of LaSalle Futures Group in Chicago, could write that "copper is a great example of a market that had gotten way ahead of itself," the stockpile data continue somewhat to belie that assertion. Inventories monitored by the LME declined again yesterday, falling by 5,000 metric tons to 420,275 tons. LME stocks have fallen for 12 consecutive trading sessions, the longest such streak since March, 2008.
Additionally, canceled warrants -- material earmarked for delivery -- rose to 70,125 metric tons from 67,600 tons on Monday. "Copper stocks are dropping substantially so this is still positive," said Andrey Kryuchenkov, of VTB Capital. "And canceled warrants are holding up -- there's still support from the physical side."
Latest data from the International Copper Study Group show a world copper a surplus of 155,000 metric tons in January, however "the current surplus should be smaller if we look at falling stockpiles at LME and Shanghai Futures Exchange," said Judy Zhu, an analyst at Standard Chartered.
Resource Stock Roundup
The Canadian Markets continued to fall ever so modestly during Tuesday's session as the price of bullion dropped below the $900 per ounce mark. For the tale of the tape, the TSX Exchange fell 0.50%, while the TSX Gold Index lost 2.4% and the TSX Venture Exchange, Canada's largest junior exploration bourse, gave back 0.98% with the decliners beating out the advancers by a 416 to 336 margin on volume of 126 million shares traded.
UTS Energy shareholders have rejected the C$1.75 cash per share offer tabled by Total E&P Canada. As a result, Total has terminated the offer. UTS ended the session down C$0.06 at C$1.52.
Petro-Canada, which is in the midst of merger with Suncor, reported a first quarter loss of $47 million or $0.10 per share. Petro-Canada ended the day up C$0.07 at C$37.65.
NovaGold Resources tabled a feasibility study for its 50 percent owned Donlin Creek project in Alaska. The study envisions a 53,500 tonne per day operation producing 1.6 million ounces of gold at a cash cost of $394 per ounce over the first five years of a 21 year mine life. At $900 per ounce for gold, the net present value at a 5 per cent discount rate is $1.5-billion with an internal rate of return of 9.4 per cent. NovaGold ended the day up C$0.05 at C$3.29.
Timminco managed to tack on C$0.19 to close at C$1.77 after the solar silicon supplier inked a financing deal with its controlling shareholder, AMG Advanced Metallurgical Group N.V. Under the proposal, AMG will purchase about 7.4 million common shares at a price of C$2.02 per share for a cool C$15 million.
Western Canadian Coal announced that it has secured enough sales contracts for the fiscal year ending March 31, 2010 to continue mining operations at the Wolverine operation and Brule mine in British Columbia. Western added C$0.18 to close at C$0.96.
Romarco Minerals failed to get a lift despite hitting more goodies at its Haile mine project in South Carolina. The latest included 5.1 grams gold per tonne over 54.9 metres. Romarco ended the session down C$0.02 at C$0.53.
The junior board failed to stay above the 1,000 point resistance mark and with the summer doldrums fast approaching trading volumes should start declining. We shall see what Wednesday trading has in store.
And then there's this...
From Ed Steer:
Tuesday trading in gold turned into a pretty big bear raid. As I mentioned briefly in my rant yesterday...starting shortly after Sydney opened on Tuesday morning...someone bombed the bullion market with a big sell order. The word 'big' is relative in this case. In the extremely thin trading that characterizes Far East gold and silver activity...a 1,000 contract sell order would hammer the market...and that's pretty much what happened in gold. Ditto for silver.
Anyway, after the Sydney pounding [courtesy of the U.S. bullion banks out of N.Y. one would think], gold didn't stray far away from $897...and was within a whisker of that price when trading began on the NYMEX/COMEX at around 8:20 a.m. in New York. Then it was lights out. A vertical decline like that can only occur if there is huge selling volume into a no-bid market...i.e. the traders for the bullion banks stand there with folded arms while the other traders try to sell. No bid...down goes the price until the bullion bank traders unfold their arms and start buying at the price they've been told to buy at. It's as simple as that. It works the other way as well. A vertical price spike [and we have seen a few of those recently] means there are lots of bids...but few [or nobody] on the 'ask' side. But I digress...
Silver's activity followed pretty much in lock step with gold...although the price moves weren't as violent...and silver was helped to the down-side during London trading...a couple of hours before the boyz in New York went to work on the price.
Anyway, when you blow away all the smoke, between the Sunday night price peaks in Sydney and Hong Kong...and the lows shortly after the Comex opened in New York Tuesday morning...gold was smacked for $35, and silver for 90 cents. Most of the damage was done in three or four strategically placed hits to the market that just set the tone and the momentum. This is not normal trading at all...and it certainly isn't a free market, as no profit-maximizing sellers ever sell like this...ever! I've been using that expression a lot lately. I hope you're getting the message.
Here's the gold chart for the period specified above. You can see every place that the New York [not for profit] bullion banks showed up.
Needless to say, Ted Butler and I had our usual chats yesterday. He said that the volume in silver on Tuesday was super-low...like the lowest ever [net of spreads]. He felt that the senseless attack on gold and silver [especially silver] was not directly Comex-related...but could have been the bullion banks going after the silver longs held by the hedge funds that trade in the OTC market. Options expiry in the OTC market was Tuesday...not Monday.
The usual N.Y. commentator had the following to say yesterday..."Today's European Central Bank weekly statement of condition indicates a drop of €823 million in "gold and gold receivables" which "reflected the sale of gold by two Eurosystem central banks". This is 37.1 tonnes. Of this, 35.5 tonnes must be the sale by the ECB itself, revealed at the end of March. A 1.6 tonne sale by one of the captive CBs is a bit higher than the recent pace – last week's reported sale was only €6.0 million...or 0.27 tonnes. Far below the notional 9.6 tonne average implied by WAG2.
"Why the ECB chooses to wreck the veracity of its weekly statements of condition (initially so impressive) remains a puzzle. An ECB Council member told
Reuters
today that Bank plans to 'renew its commitment to the Central Bank Gold Agreement (CBGA)' which expires in September and is running late for renewal. That goes some, but not all the way, to meaning that there will be a new one."
Open interest changes for Monday [Comex options expiry in gold and silver] were as follows. Gold o.i. fell a smallish 157 contracts to 346,479 contracts...and silver o.i. fell a more substantial 899 contracts to 94,721. These numbers will be in Friday's COT. Tuesday's open interest numbers will be interesting when they become available later this morning.
The Comex Delivery Report showed that 752 gold contracts [75,200 ounces] were delivered yesterday. The big delivery was by Goldman Sachs [710 contracts]...and the big receivers/stoppers were Bank of Nova Scotia [413], JPMorgan [161] and Bank of America [134]. Today is the last delivery day for April and it will be a pretty busy one...as yesterday was the last day of trading in the April contract...and it was interesting, as another 1,179 contracts were purchased for delivery in April. As I said, today is the last day for delivery into the April contract...so the Comex Delivery Report should show as many as 1,752 gold contracts delivered when it's released this morning.
Over at the Comex-approved warehouses, silver stocks rose a smallish 203,678 ounces. There were no other changes anywhere...the U.S. Mint...the ETFs...nothing.
The only gold/silver story worth noting was the Bloomberg piece filed over at Kitco...where GFMS Ltd. was waxing philosophical on the first quarter gold scrap situation. This is sort of old news, but now they have some real numbers to go with it. The piece is entitled "Gold Scrapping May Have Reached 500 Tons, GFMS Says". This short story is worth running through...and the link is
here
.
I've got another whack of stories again today. The first is an
AP
story from this past weekend that was posted at
breitbart.com
and is entitled "Italy's Mafia thrives in global financial meltdown". I thank P.S. for sending this story along...and the link is
here
.
In a story that appeared in
The Wall Street Journal
yesterday is this missive entitled "Car Dealers' Next Headache: Inventory Loans"..."The two auto makers have about 10,000 dealers in the U.S., with the bulk of them carrying considerable debt, mainly from the money they borrow to buy cars that sit on their lots. If Chrysler or GM were to file for bankruptcy protection, the banks extending that credit could immediately begin calling dealer loans, demanding a good portion of the money back and refusing to extend any more inventory financing." It sure sounds ugly to me. I thank Craig McCarty for the story and the link is
here
.
A story posted in the
New York Times
bears the following headline..."Italy Seizes Millions in Assets From Four Banks". With municipal bond investigations spreading to Europe from the United States, Italian authorities have seized abut $300 million in assets of four global banks...JPMorgan Chase, Deutsche Bank, UBS and Defa. This is another multi-billion dollar story in the making. I once again thank Craig McCarty...and the link is
here
.
The next story is by John Crudele from the
New York Post
. John smells the body odour of Goldman Sachs all over this stock market...and at the same time wonders what the President's Working Group [PPT] is up to. The article is entitled "Questions About Goldman Sachs' Role in Market" and the link is
here
.
And lastly comes this story...once again from
The Wall Street Journal
. It asks lots more embarrassing questions about the Bank of America and the Merrill Lynch deal. And rightly so! The title of this article is "Busting Bank of America: A case study in how to spread systemic financial risk" and the link is
here
.
I look at the stock, bond and currency markets and just give my head a shake. It's amazing what blind faith, B.S. and the Plunge Protection Team can do. As I've said before, the world's economy, financial and monetary system is done for. The bullion banks in turn are trying to shake the gold and silver trees for the last available long contract they can get, because I doubt very much that they will be around to short the next rally in either gold or silver...at least not at these price levels. That's what the last several days' shenanigans have been all about. For gold and silver, today is the last delivery day in the April contract and tomorrow is first notice day for the May contract. Then all bets will be off.
See you on Thursday morning.
Casey Research correspondent-at-large Ed Steer is a keen observer of the financial scene and a board member of GATA.org.
Casey's Daily Resource Plus
A quick reading but comprehensive daily update on all the goings on in the booming natural resource sector. All the important news delivered to your email inbox each morning in time for you to enjoy it over a cup of coffee, before markets open. The only tool like it in the world. And, did we mention... it's FREE!
__________________
By using this site you are agreeing to the terms of our
disclaimer
.
Search Gold Speculator Articles
Similar Articles You May Enjoy
| | | |
| --- | --- | --- |
| Article Title | Source | Last Comment Date |
| Casey's Daily Resource Plus - May 19, 2009 | Casey Research | May 19, 2009 |
| Casey's Daily Resource Plus - Apr 10, 2009 | Casey Research | April 10, 2009 |
| Casey's Daily Resource Plus - Mar 6, 2009 | Casey Research | March 06, 2009 |
| Casey's Daily Resource Plus - Mar 5, 2009 | Casey Research | March 05, 2009 |
| Casey's Daily Resource Plus - Mar 4, 2009 | Casey Research | March 04, 2009 |
Currently Active Users Viewing This Thread: 1

(0 members and 1 guests)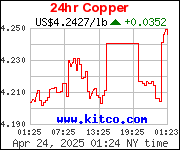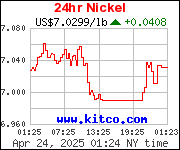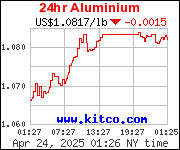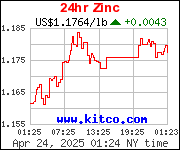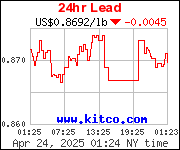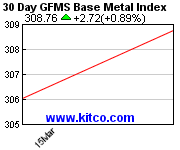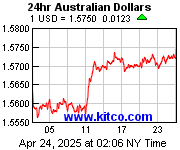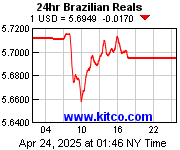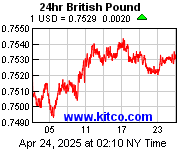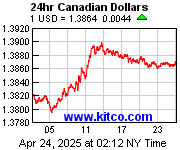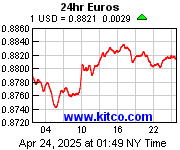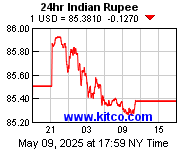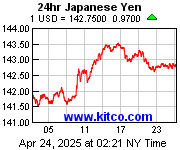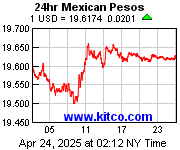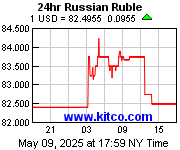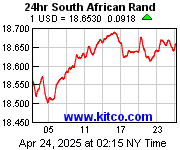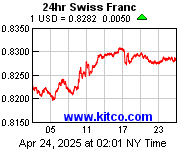 What do you think? Your comments are welcomed.
We appreciate all of your comments and feedback. You need to be registered in order to post comments. You can register here, or sign in. if you have a comment off topic you can post it in our forums section.