Casey's Daily Resource Plus - May 16, 2009
Published: May 16, 2009
by GoldSpeculator
---
In Today's Edition
Gold ekes out gain - While silver, platinum fall.
Dollar rallies strongly against euro - CPI flat, consumer confidence rises.
Oil off sharply - Price correction as expected.
Base metals mostly lower - But tech analysis sees copper poised for upswing.

Precious Metals


Gold was essentially unchanged to the mid-point of the London session on Friday, after which it took off and moved sharply higher to late morning, poking above $933 before sliding through the end of the Comex, only to perk up again on the Globex and rise to a finish at $930.90/oz., up $5.20. For the week, gold tacked on 1.6%.
Platinum peaked in the far East, slumped to the New York open, staged a very tepid rally, then slid again to end near its intraday low at $1101, down $10. For the week, platinum shed 4%.
Silver was down from late Hong Kong trading to the New York open, climbed to its high for the day, of $14.15, in the late morning, then slowly keeled over through the Globex to close at $13.95, down 10 cents. For the week, silver was off a miniscule 3/10 of one percent.
The Price of Things
Resource
Last
1 Week Ago
3 Months Ago
1 Year Ago
Gold
931.50
915.30
941.60
881.40
Silver
13.99
13.98
13.67
16.70
Platinum
1099.00
1146.00
1061.00
2085.00
Palladium
222.00
240.00
215.00
437.00
Copper
1.99
2.13
1.54
3.79
Nickel
5.54
5.86
4.60
11.91
Zinc
0.50
0.50
0.50
1.01
Uranium
51.00
46.00
47.00
60.00
Oil
56.30
58.05
45.00
122.98
Gas
4.10
4.34
4.45
11.38
It was a second straight day of minor change for the precious metals, with silver and platinum submitting losses, while gold somehow managed to eke out a modest finish in the green.
However, gold aficionados had to be satisfied with the results, given that the usual suspects were line up in opposition, with oil selling off and the dollar moving strongly against the euro.
Gold likely got a lift from declining equities.
"For gold and silver, we are going into a win-win situation," said Ashraf Laidi, the chief market strategist at CMC Markets in London. "When we will have a retreat in the financials and the rest of the stocks, we will have some rotation into metals."
In addition, "The core inflation number helped stabilize gold and helped gold up $930," said George Gero, of RBC Capital Markets.
That could be meaningful heading into next week, according to Ralph Preston, of Heritage West Futures in San Diego, who predicted that, "A close above $930 could be explosive."
Yet more positive statements came from Tom Pawlicki, of MF Global, who noted that, "Gold has been the object of affection for hedge funds and also has paid increasing attention to the dollar lately … That helps explain why gold has rallied both when stocks have risen and fallen."
If the funds are moving back into the yellow metal, that bodes very well indeed.
News You Can Use:
First Majestic Silver Corp is committed to building a senior silver-producing mining company based on an aggressive acquisition and development plan with a focus on Mexico. The Company presently owns or operates three silver mines in Mexico: The La Parrilla Silver Mine; The San Martin Silver Mine and the La Encantada Silver Mine. Annual production from these three mines is anticipated to be 5 million ounces.


Currencies and Economic News


In the currency market, the dollar was sharply higher against the euro. Late Friday, the euro was trading at $1.3471 vs. $1.3633 on Thursday.
The data parade was led yesterday by the Labor Department, which reported that consumer prices were unchanged in April, led by a decline in energy prices. That represented stabilization, following a 0.7% slide in the past 12 months, the largest in 54 years.
Core inflation - excluding food and energy prices - has actually accelerated in the past four months, rising 0.3% in April, the biggest increase since last July. But that's a tad misleading, as core CPI was boosted in April by a 9.3% increase in tobacco prices as a new federal excise tax was implemented. Minus tobacco, the CPI fell 0.1% in April and the core CPI rose only 0.1%.
Many still see deflation in the cards. Core inflation will sink below 1% on a year-over-year basis by early next year, says David Greenlaw, an economist for Morgan Stanley, "reflecting the enormous further slack we expect to build up in the economy through year end."
Meanwhile, consumer sentiment inched higher, according to the University of Michigan/Reuters survey. Its index rose to 67.9, the highest reading since September, from 65.1 in April.
Tossing a wet towel on that, Ian Pollick, economics strategist with TD Securities, wrote that Americans "don't feel that great about the present … Rather, it is the future that they are more hopeful for...Likely, this is a function of equity market strength coupled with 'green shoot' stories seen during the month."
Energy


In the energy market on Friday, crude for June delivery fell back, closing at $56.34/barrel, down $2.28. June reformulated gasoline dropped 4.31 cents, to $1.6806/gallon.
Friday's result left crude down by 3.9% on the week, following a 10% rally the week before.
After reports that OPEC ratcheted up oil production in April, the first month in eight in which the cartel has increased output, Commerzbank analysts commented that, "Rising oil prices increase the incentive to expand production at the expense of other oil producers, in order to benefit from higher oil prices."
"A weaker demand and higher OPEC supply may explain why oil stocks have been rising until recently," the bank's analysts added. "This also confirms our conviction that the oil price increase during the last weeks was overdone and a price correction toward $55 a barrel had to be expected."
And natgas followed last week's sharp gains with equally sharp losses, ending Friday at $4.098 per million British thermal units, down 5.2% for the week.
Base Metals


The base metals were mostly lower on Friday. Copper sank from the pre-dawn hours to the New York open, bottoming at $1.96, rallied back to $2.02 by late morning, but then sagged again to finish at $1.9969/lb., down nearly 2 cents. Nickel followed much the same pattern, eventually closing little changed at $5.5444/lb., down 2¼ cents. Zinc fell precipitously around the noon hour, ending near its intraday low at $0.6579/lb., down a penny. Aluminum posted a modest loss, shedding a quarter of a cent, to $0.6743/lb., while lead bucked the trend, adding almost a penny and a quarter, to $0.6634/lb.
Copper led the industrial metals through a day of relatively modest changes, giving ground late in the day as, according to
Reuters
, "mixed economic data from Europe and the U.S. underscored concerns about the health of the global economy and fed a price correction from over-heated levels that may extend into the coming week, analysts said."
Offering a technical look at copper, which now portends a rising price, Bloomberg wrote: "Copper may rise to levels not seen since October in the month ahead, as the metal forms a U-shaped base, Standard Chartered Bank said, citing trading patterns.
"The 50-week momentum indicator continues to turn higher and supports a rising copper market, as does the sustained push above the 13-week moving average, London-based David Barclay, the bank's commodity strategist, wrote … The 14-day stochastic indicator and MACD lines are also signaling a 'buy,' he said …
" 'Copper prices are still struggling to clear resistance at $4,925 a ton, but a climb to $5,156 a ton remains favored over the coming month,' wrote Barclay. This is a 38.2 percent retracement of the fall from the 2008 high, he said, based on a series of numbers known as the Fibonacci sequence. After this, copper may target the 50 percent retracement objective of $5,878 a ton, he added.
"Fibonacci analysis is based on the theory that prices rise or fall by certain percentages after reaching a high or low. A break of a so-called 'level of resistance' indicates a price may move to the next level, while a failure indicates a trend may stall. Sell orders may be clustered at resistance levels."
Well, if they say so.
Meanwhile, stockpile data was strongly positive. Copper inventories monitored by the LME plummeted by a huge 12,850 metric tons yesterday, to 357,800 tons.

Resource Stock Roundup
The schizophrenic nature of investors once again ruled the day during Friday trading on the Canadian Markets. For the tale of the tape, the TSX Exchange fell 0.92%, while the TSX Gold Index dropped 1.7% and the TSX Venture Exchange, Canada's largest junior exploration bourse, tacked on 0.21%, with the decliners edging out the advancers by a 408 to 363 margin on 165 million shares traded.
Trevali Resources added C$0.11 to close at C$1.16 after the company announced that it signed a memorandum of understanding with Glencore International AG of Switzerland to help develop and obtain the metal concentrate from the Santander silver-lead-zinc mine project in Peru.
Endeavour Silver tabled a first quarter loss of US$1.9 million but cash costs fell to $7.56 per ounce of silver. Silver production came in at 572,785 ounces and gold production hit 2,335 ounces. Endeavour closed at C$1.99 for a C$0.01 loss.
Luna Gold inked a deal to sell 17 percent of its gold production from the Aurizona project in Brazil to Sandstorm Resources for US$17.8 million and continuing payments of US$400 per ounce of gold delivered. Sandstorm ended the day flat at C$0.50, while Luna closed unchanged at C$0.38.
The day to day trading gyrations are great for the day traders but are making the longer term holders a wee bit nervous. Given the volatility, it is probably a good thing that the Canadian Markets will be closed Monday for Victoria Day. We shall see what Tuesday trading has in store.
The Private Placement Alert


Private placement financings are typically done on preferential terms, often providing investors the opportunities to buy shares at a discount to the market, and receive a warrant as well. In exchange, investors agree to a "hold" period of between 4 months and a year, during which they cannot sell their shares. If you are interested in participating in a private placement, contact the company directly. Typically, only high net worth individuals are allowed to participate. Below is a list of private placements announced this week...
The Private Placement Alert
Company
Symbol
Category
Gross Proceeds
Antares Minerals Inc [ visit website ]
V.ANM
Mining
$6,000,000
Black Panther Mining Corp [ visit website ]
V.BPC
Mining
$150,000
Bowmore Exploration Ltd [ visit website ]
V.BOW
Mining
$1,000,000
Bravo Venture Group Inc [ visit website ]
V.BVG
Mining
$5,411,700
Continent Resources Inc [ visit website ]
C.CTT
Mining
$770,000
Dynasty Gold Corp [ visit website ]
V.DYG
Mining
$90,000
Euromax Resources Ltd [ visit website ]
V.EOX
Mining
$300,000
Garibaldi Resources Corp [ visit website ]
V.GGI
Mining
$660,000
Global Minerals Ltd [ visit website ]
V.CTG
Mining
$300,000
Gold Summit Corp [ visit website ]
V.GSM
Mining
$500,000
Golden Band Resources Inc [ visit website ]
V.GBN
Mining
$4,400,000
Gowest Amalgamated Resources Ltd [ visit website ]
V.GWA
Mining
$52,500
Harvest Energy Trust [ visit website ]
T.HTE.UN
Energy
$116,800,000
Hi Ho Silver Resources Inc [ visit website ]
C.HHS
Mining
$250,000
Island Arc Exploration Corp [ visit website ]
V.IAX
Mining
$200,000
Kinbauri Gold Corp [ visit website ]
V.KNB
Mining
$3,000,000
Kivalliq Energy Corp [ visit website ]
V.KIV
Mining
$1,500,000
New Dimension Resources Ltd [ visit website ]
V.NDR
Mining
$300,000
Redzone Resources Ltd [ visit website ]
C.REZ
Mining
$4,000,000
Santoy Resources Ltd [ visit website ]
V.SAN
Mining
$5,000,000
Selwyn Resources Ltd [ visit website ]
V.SWN
Mining
$3,750,000
Sirios Resources Inc [ visit website ]
V.SOI
Mining
$1,500,000
Teuton Resources Corp [ visit website ]
V.TUO
Mining
$200,000
Vast Exploration Inc [ visit website ]
V.VST
Energy
$7,500,000
Vault Minerals Inc [ visit website ]
V.MI
Mining
$600,000
And then there's this...
From Ed Steer:
Gold was basically comatose all through Far East and European trading...with what activity there was, beginning [as is mostly the case] once floor trading began on the Comex in New York. Volume was decent in both metals, and both gold and silver's attempts to go vertical shortly before the London close got firmly stopped in their tracks. The usual New York gold commentator noted that a very large 80,482 gold contracts had traded by 11:00 a.m....with a total of 110,979 for the entire day.
I find it highly suspicious that the Dow hit its high of the day and the US$ hit its low of the day at precisely the same moment that the vertical gold and silver price rallies were cut off at the knees around 10:30 New York time. You can read into that whatever you want.
Open interest changes for Thursday's trading are as follows. In gold, open interest rose 1,307 contracts to 361,418. Volume [including switches] was a respectable 100,278 contracts. Silver o.i. rose another 721 contracts to 95,439. Volume was on the lighter side...15,326 contracts.
Well, the contents of Friday's Commitment of Traders report [for positions held at the end of trading on May 12th] was no surprise, as it confirmed the price action of the last week or so. As I mentioned yesterday...it's the 'same old, same old' routine. Neither Ted Butler nor myself were happy about the numbers. In silver it showed that the technical funds in the Non-Commerical category had increased their net long position by 3,696 contracts...and ditto for the small traders in the Nonreportable category [those traders holding less than 150 silver contracts], as they increased their net long position by 1,432 contracts. Going short against them, as usual, were the bullion banks in the Commercial category. They increased their net short position by the same amount...the total of these two numbers...which is 5,128 contracts. Don't forget, there has to be a short for every long. The link to the full-colour graphics-intensive silver COT chart is
here
.
It was basically the same in gold. The technical funds in the Non-Commercial category increased their net long position by 8,886 contracts...while the small traders in the Nonreportable category increased their net long position by 1,849 contracts. The bullion banks in the Commercial category took the short side of all those trades to the tune of 10,735 contracts. The gold COT graph is linked
here
.
Even though the net short position in silver by the Cartel is deteriorating, it's still pretty low when you look at past history. But what concerns me the most, as I've been harping on for the last couple of months, is the large [and growing] short position in gold by the same crooks. Right now in gold, the Gold Cartel is net short 17.1 million ounces in the Commercial category of the COT. During the last twelve months or so, the Gold Cartel's net short position has varied between 6.9 million ounces when the gold price was at its lows late last year...and 25+ million ounces when the gold price was at its highs early in 2008. So there's lots of room for the gold price to run to the upside...and even more room for silver. But will JPMorgan
et al
, allow it?
I see in a
mineweb.com
story that Anglogold Ashanti cut their hedge book by another 154,000 ounces during the last quarter and pledges to cut another 150,000 ounces out of its hedge book in the current quarter. As of the end of March, the company had a hedge book of 5.84 million ounces. Between them and Barrick, these two companies hold at least two thirds of world's remaining forward sales. JPMorgan is the counterparty to a large portion of their respective hedge books. The entire story is linked
here
.
The Comex Delivery Report for Friday showed that 101 gold contracts were delivered. In silver a very large 782 contracts were delivered...finally! The big deliveries were by Goldman Sachs [220 contracts] and JPMorgan [562 contracts]. The big stopper was Bank of Nova Scotia with 556 contracts accepted.
I also noted yesterday that the U.S. Mint updated their gold and silver eagles numbers. Friday is a strange day for them to do it. Anyway, the changes weren't large. One ounce Gold eagle mintings rose a smallish 6,000...and silver eagles rose 55,000 to 1,089,500. My coin dealer [and the usual N.Y. gold commentator] both mentioned yesterday that lots of silver was available now and that premiums on just about everything were falling rapidly. There were no changes in either GLD or SLV yesterday...and Comex-approved silver warehouse stocks rose again...this time a smallish 265,915 ounces.
While the stock market is up sharply since early March, the economy as well as corporate earnings continue to suffer. Today's chart helps provide some perspective as to the magnitude of the current economic decline. It illustrates that 12-month, as-reported S&P 500 earnings have declined over 90% over the past 20 months [with over 90% of S&P 500 companies having reported for Q1/09], making this by far the largest decline on record [the data goes back to 1936]. In fact, real earnings have dropped to a record low and if current estimates hold, Q3/09 will see the first 12-month period during which S&P 500 earnings are negative. I thank P.S. for sending this along. The graph below tells all...
I only have three stories today. The first is a GATA dispatch from last weekend entitled "Is U.S. buying back gold pledged to IMF for $100 billion?" It's a very interesting spin on the ongoing saga of IMF gold and who really physically owns it...or those who may have paper claims on it. The link is
here
.
The next item is from the Finance and Economics section of
The Economist
dated May 7, 2009. "But do not mistake the bottom for a vigorous rebound. Consumption may be growing again, but there is every chance it will remain depressed in coming years because of weak income growth, depleted wealth and tightened credit." That's the understatement of the year, in my opinion. I thank P.S. for sending the story along. It's entitled "Off their trolleys" and the link is
here
.
Lastly is commentary from Eric Sprott over at Sprott Asset Managment in Toronto. He and David Franklin address the question of the derivatives market in an article entitled "The Elephant in the Room". It's definitely worth the read, and the link to the pdf file is
here
.
My momma always told me, the bucket brings up what's in the well.
- J.C. Watts
Today's blast from the past needs no introduction whatsoever. It's by the late, great Roy Orbison...and that should tell you all need to know. Turn up your speakers and then click
here
.
So what will happen to gold and silver next week? Beats me. However, the wonderful set-up that existed a couple of weeks ago in both metals has diminished somewhat...as it is obvious that the bullion banks are [again] going short against all longs in this rally. How long will this current rally last? Don't know that either. But what I do know is that until the bullion banks stop doing what they're doing, nothing will change...and they will remain firmly in control of the precious metals market...until they either give up, or are blown up.
All of us at
Casey's Daily Resource
Plus
hope that you enjoy the rest of your weekend, and we all look forward to seeing you here bright and early on Tuesday morning.
Casey Research correspondent-at-large Ed Steer is a keen observer of the financial scene and a board member of GATA.org.


Casey's Daily Resource Plus
A quick reading but comprehensive daily update on all the goings on in the booming natural resource sector. All the important news delivered to your email inbox each morning in time for you to enjoy it over a cup of coffee, before markets open. The only tool like it in the world. And, did we mention... it's FREE!
__________________
By using this site you are agreeing to the terms of our
disclaimer
.
Search Gold Speculator Articles
Similar Articles You May Enjoy
| | | |
| --- | --- | --- |
| Article Title | Source | Last Comment Date |
| Casey's Daily Resource Plus - May 19, 2009 | Casey Research | May 19, 2009 |
| Casey's Daily Resource Plus - Apr 10, 2009 | Casey Research | April 10, 2009 |
| Casey's Daily Resource Plus - Mar 6, 2009 | Casey Research | March 06, 2009 |
| Casey's Daily Resource Plus - Mar 5, 2009 | Casey Research | March 05, 2009 |
| Casey's Daily Resource Plus - Mar 4, 2009 | Casey Research | March 04, 2009 |
Currently Active Users Viewing This Thread: 1

(0 members and 1 guests)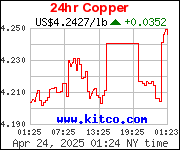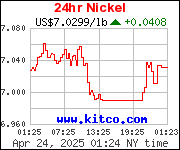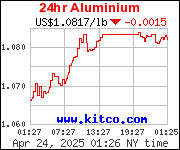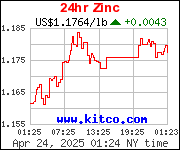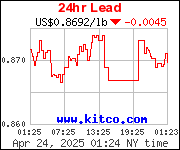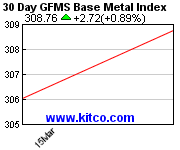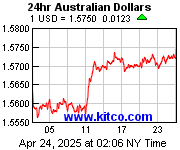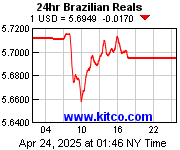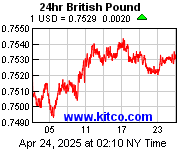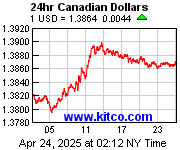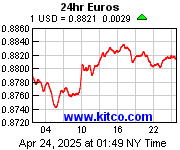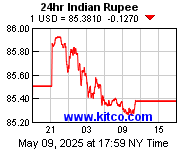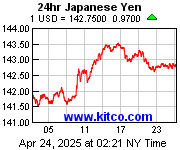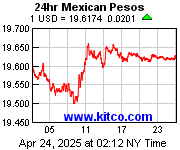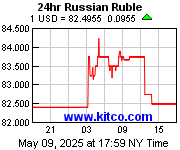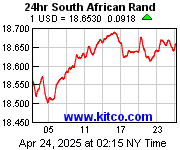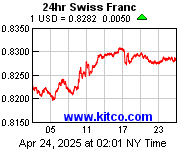 What do you think? Your comments are welcomed.
We appreciate all of your comments and feedback. You need to be registered in order to post comments. You can register here, or sign in. if you have a comment off topic you can post it in our forums section.