Jim Rickards: The Hidden Role of Gold at the IMF
Published: April 24, 2012
by GoldSpeculator
---
"If you needed more proof that silver is at the centre of the known universe for JPMorgan et al, it was provided for you yesterday."
Yesterday in Gold and Silver

All was quiet both price wise and volume wise during Far East trading during their Monday, but moments after London opened yesterday morning, the bid disappeared and the gold price dropped ten bucks in about fifteen minutes.

From there it flat-lined up until about lunchtime local time...and then headed lower once again. The low price tick [$1,622.10 spot] came right at the Comex open in New York at 8:20 a.m. Eastern time.

From there it worked its way slowly higher...and closed at $1,638.30 spot...down $4.10 on the day...and about $16 off of its low. Net volume wasn't overly heavy at around 112,000 contracts.




Silver got sold off about a dime the moment that trading began in New York on Sunday night...and traded around the $31.60 spot price mark up right up until shortly before 1:00 p.m. Hong Kong time. Up until that point, volume had been vanishingly small, but once the high-frequency traders showed up, all the changed...and by shortly before lunch in London, silver was down about 40 cents from it's Friday close.

Once the daily silver 'fix' was in around that time, the price was engineered lower...and once the Comex opened in New York, silver was down about $1.20 from its Friday close in New York.

The price recovered a bit from there, but about 12:45 Eastern, the price rolled over...and forty minutes later, silver hit its low price tick of the day...$30.40 spot...just a few minutes before the close of Comex trading at 1:30 p.m. before rallying a bit up until 2:15 p.m. Eastern time. From there it traded flat into the close of electronic trading in New York.

Silver closed the day at $30.81 spot...down 84 cents...and had an intraday price move of 4.1 percent. Gross volume was immense, but the net volume was only 36,000 contracts.




The dollar index gapped up a bit at the open on Sunday night...but then traded flat until about 1:00 p.m. in Hong Kong...the very time that the silver price began its journey to the nether reaches of the price chart. The high tick of the day [about 79.63] came around 10:15 a.m. in New York on Monday...and by the close of trading had given back a large chunk of that gain. The dollar index closed up about 20 basis points on the day
Based on the timing of the inflection points in both gold and silver prices yesterday, it's more than a stretch to say that the precious metals pricing had much to do with what the dollar index was doing.




The gold stocks gapped down at the open...and hit their nadir around 10:20 a.m. Eastern...which was the top of the move in the dollar, right to the minute. The gold stocks gained back some of the loses with an hour of their low, before basically trading sideways for the rest of the trading day. Despite the fact that gold was only down about four bucks...the HUI finished down 2.39%.




The silver stocks got it in the neck once again...and Nick Laird's Silver Sentiment Index got smacked to the tune of 2.87%. Most silver stocks are now trading at their 52-week lows.



(Click on image to enlarge)



The CME's Daily Delivery Report showed that 101 gold and 1 lonely silver contract were posted for delivery tomorrow.

The GLD ETF showed that an authorized participant withdrew 135,948 troy ounces of gold yesterday. That's the first time since April 10th...and only the second time this month...that there has been any activity in GLD, in or out. There were no reported changes in SLV.

There was a sales report from the U.S. Mint yesterday. They sold 1,500 ounces of gold eagles...400,000 silver eagles...and 2,000 one-ounce 24K gold buffaloes. Month-to-date the mint has sold 17,000 ounces of gold eagles...9,000 one-ounce 24K gold buffaloes...and 1,280,000 silver eagles.

The Comex-approved warehouses reported receiving 1,847,666 troy ounces of silver on Friday...and shipped out an insignificant 2,003 ounces of the stuff. That amount of silver received is equivalent to one day of world silver production. JPMorgan took in 620,615 ounces of that. The link to Friday's activity is here.
Silver analyst Ted Butler had his usual weekend commentary for his paying subscribers...and here are two free paragraphs.

"As I have written before, in studying the COMEX silver warehouse stocks for more than 30 years, I have never been able to decipher a connection between the warehouse data and price. But always in the past, large increases or decreases in COMEX silver inventories were eventually explained by other public developments.
Invariably, increases in COMEX silver stocks are interpreted bearishly in that a surplus is the most logical conclusion...and the opposite for inventory reductions. But there are too many variables for there to be only those black and white conclusions...and past price history renders them invalid anyway. All that said, I am still taken back by the turnover in COMEX silver inventories."

"This past week, turnover in COMEX silver inventories was more frenzied than ever. There were two days of net withdrawals of more than 2 million ounces. For the week, total COMEX silver stocks were down nearly 3 million oz to 138.7 million oz. I am not celebrating the reduction, but highlighting the overall turnover. The "churn" in inventories is what has my attention. Why is so much silver being moved in and out of these warehouses? Coincidently, there was also a big reduction this week in the holdings of the big silver ETF, SLV, on the order of 3 million ounces that did not look at all related to plain vanilla investor liquidation. The most plausible alternative explanation is that the metal was more urgently needed elsewhere. Here's an interesting factoid – just as commentaries concerning the record increase in COMEX silver stocks have circulated, over the past 4 weeks, the combined total silver holdings in the COMEX and SLV have declined by 2 million ounces. My point is not the total level of silver inventories, but the movement."

Reader Scott Pluschau posted a blog about silver yesterday morning...long before the markets in New York were open in New York...but it was obvious that silver was going to have a bad day even then. When the price activity for New York began, Scott mentioned the fact that "They may get the specs to short, which is what I suspect they are more interested in." Ted Butler said precisely the same thing later in the morning, as he said that it was textbook price action for that sort technical fund activity...and it's entirely possible that the low that came just before the Comex close was a technical fund[s] short position[s] being placed. The link to Scott's blog on silver, is here.

The following snippet came from the April edition of Casey Research's BIG GOLD..."VIA MAT International (VMI) gold storage limit temporarily reached: Due to high and growing demand for its services, VMI reached its insurable limits at its vaults in Zurich, Hong Kong, and London, and cannot accept new customers. We spoke with VIA MAT and were told they are investing in new facilities at all three locations. Hong Kong is expected to be ready this May, and Zurich in June or July. No word yet on London. In the meantime, VMI is placing customers on a waiting list."

Here's an interesting ad that a doctor ran in Florida's Panama City News Herald earlier this year...and I thank reader "Rocky R" for sharing it with us.




Despite my 'scorched earth' editing procedure for this column, I have a rather large number of stories for you today and, as always, I'm delighted to leave the final edit up to you.








Critical Reads
Short Sales Higher, Home Prices Lower

Buyer traffic is strong, supply of homes for sale is low, and yet home prices continue to defy the usual formula, falling again in March. Prices usually rise as supply shrinks, but demand is still too low to make those historical "norms" compute, not to mention that the type of supply available is largely distressed.
Foreclosures and short sales (when the home is sold for less than the value of the mortgage) accounted for 47.7 percent of sales, in a three month running average measured by Campbell/Inside Mortgage Finance. That's the 25th month in a row that distressed sales have topped 40 percent of the market.
"With nearly half of the market being distressed, we're a long way from a return to a normal market," said Thomas Popik, research director at Campbell Surveys. "Agents responding to our survey say that homeowners with well-maintained properties in good locations are very reluctant to list at today's prices. That's why inventory is low—and also why forced REO and short sales are such a big proportion of the remaining market."
This story was posted on the CNBC Mobile Home website yesterday...and I thank West Virginia reader Elliot Simon for sending it. The link is here.


For first time since Depression, more Mexicans leave U.S. than enter

A four-decade tidal wave of Mexican immigration to the United States has receded, causing a historic shift in migration patterns as more Mexicans appear to be leaving the United States for Mexico than the other way around, according to a report from the Pew Hispanic Center.
It looks to be the first reversal in the trend since the Depression, and experts say that a declining Mexican birthrate and other factors may make it permanent.
"I think the massive boom in Mexican immigration is over and I don't think it will ever return to the numbers we saw in the 1990s and 2000s," said Douglas Massey, a professor of sociology and public affairs at Princeton University and co-director of the Mexican Migration Project, which has been gathering data on the subject for 30 years.
This story was in yesterday's edition of The Washington Post...and I thank Washington state reader S.A. for bringing it to my attention. The link is here.


The case against Lehman Brothers

It's hard to overstate the enormity of the 2008 collapse of Lehman Brothers. It was the largest bankruptcy in history; 26,000 employees lost their jobs; millions of investors lost all or almost all of their money; and it triggered a chain reaction that produced the worst financial crisis and economic downturn in 70 years.
Yet four years later, no one at Lehman has been held responsible. Steve Kroft investigates the collapse of Lehman Brothers: what the SEC did and didn't know about the firm's finances, the role of a top accounting firm, and why no one at Lehman has been called to account.
This 5-page essay was posted over at the Breaking News Headlines: Business, Entertainment & World News - CBS News website on Sunday evening...and I thank reader Peter Handley for bringing it to my attention. The link is here.


Ron Paul says CISPA cyber-terrorism bill would create 'Big Brother' culture

Republican presidential candidate Ron Paul has slammed a controversial cyber-terrorism bill, calling it "Big Brother writ large" and saying it would make "government spies" of Facebook and Google.
The Cyber Intelligence Sharing and Protection Act (CISPA) is due to be heard in the House of Representatives this week and now has the backing of 112 members of Congress.
The bill aims to make it easier for US companies and authorities to share information as they tackle online crime. But it has been attacked by civil liberties groups as too broadly written and a threat to the privacy of ordinary citizens.
This story showed up in The Guardian yesterday evening...and I think Swiss reader B.G. for sending it my way...and the link is here.


United States curbs use of extra $430bn of IMF firepower

Much of the $430bn global bail-out fund agreed in Washington over the weekend may not be available until next year, it has emerged.
Britain pledged an extra £10bn ($15bn) to the International Monetary Fund but Treasury officials stressed the contribution is contingent on the US ratifying an agreement struck two years ago in Seoul. The US, though, is not expected to sign it off until after November's presidential election at the earliest.
According to IMF officials, a number of other countries have attached similar conditions to their contributions, potentially limiting the new bail-out fund's firepower.
This story appeared in The Telegraph on Saturday evening and is Roy Stephens first offering of the day. The link is here.


IMF encourages Europe's economic suicide: Ambrose Evans-Pritchard

Another vast pledge to save the euro, another chance lost to break the hold of Europe's austerity mystics and force a shift in strategic direction.
"We're north of a trillion dollars," said Christine Lagarde, the International Monetary Fund's queen bee. Kudos to her for netting such sums in her Louis Vuitton handbag but what exactly does this achieve, given that Europe remains bent on committing "economic suicide" -- in the words of Nobel laureate Paul Krugman?
Big language from world officialdom had traction in the early phases of this saga, when episodic spasms of angst caused "sudden stops" in capital to the South – each quickly reversed by bazookas, firewalls, and solemn incantations.
Europe has by now progressed to the tertiary phase of its currency disease. A large chunk of global funding for EMU deficit states has been cut off indefinitely. There has been an almost irreversible collapse of investor confidence in the policy mix and governing machinery of monetary union. It is a "permanent stop". Firewall can do nothing for this condition.
Ambrose is in fine form in this rather longish article posted late Sunday night over at The Telegraph. It's worth the read...and the link to Roy Stephens' second offering of the day, is here.


The Spanish Dilemma: Euro's Fate Hinges on Austerity in Madrid

Spain in recent days has taken center stage in the euro crisis. The country's banks are threatened with collapse and the government in Madrid has not been successful in efforts to get the national budget under control. Will the country be forced to request aid from the euro bailout fund?
Everything is going according to plan, no reason to worry, the threat has been contained. When Europe's monetary watchdogs resort to such catch phrases, investors and politicians alike know that the situation is serious.
the fact of the matter is that the crisis fighters in Brussels are highly alarmed. It was less than two months ago that economists and financial experts were sounding the all-clear signal after the European Central Bank (ECB) had flooded the markets with €1 trillion ($1.32 trillion) in cheap money for banks. German columnists even announced "the end of the crisis."
In reality, though, the fuse is still burning, and financial experts at the European Commission, the EU's executive, the ECB and the national finance ministries are more concerned than ever.
This story was posted on the German website SPIEGEL ONLINE - Nachrichten yesterday...and is a must read in my opinion. It's another offering from Roy Stephens...and the link is here.


Billions wiped off Europe's biggest companies as political rebellion rocks eurozone

Stock markets plunged as traders panicked that Angela Merkel could lose her key allies in France and the Netherlands and that the debt crisis rescue plans could unravel.
The Dutch prime minister Mark Rutte, who is one of the eurozone's "hardliners" on fiscal discipline, dramatically quit in the wake of his coalition's refusal to accept Europe's debt pact. Snap elections could be called as early as June.
Traders were also rattled by Francois Hollande's victory over Nicolas Sarkozy in the first round of the French presidential election. The socialist Mr. Hollande has vowed to renegotiate the fiscal pact that including a 3pc of GDP deficit limit.
This story appeared in The Telegraph late last night...and I thank Roy Stephens once again for sharing it with us. The link is here.


The Swiss are helping Iran get around the embargo

The Swiss Foreign Ministry has dismissed the U.S.-led oil and financial industry embargoes against Iran and will allow the Iranian Central Bank to conduct business activities there despite Western concern over Iran's nuclear development program.
It also will continue the import of Iranian oil, according to Rudolf Christen of the Swiss Federal Department of Foreign Affairs.
"The Swiss decision to allow transactions by the Iranian Central Bank undermines the U.S.-driven financial sanctions," according to Hague-based Heinrich Matthee. "Swiss-based actors will benefit from the decision." Switzerland's decision puts it at odds with other European countries.
This story was posted on the Business Insider website yesterday afternoon...and is another contribution from Roy. The link is here.


Despite sanctions, ties between Iran and Germany remain strong

German companies have adapted to the sanctions and even the European Union's decision in January to freeze the assets of Iran's central bank and this month's move to disconnect Iranian banks from the Swift financial transfer network won't shut down legal exports of machinery, chemical products, agricultural produce, vehicles and vehicle components to Iran.
Alternative ways are being found for settling trade debts, including suitcases filled with cash, barter deals, and especially money transfers via banks in third-party countries such as Turkey, Armenia, Belarus and Azerbaijan.
German exports to Iran fell 18 percent last year but still amounted to a hefty €3.1 billion. They are expected to fall at a similar rate this year, with the German engineering industry association, VDMA, complaining this month that the financial sanctions will have "massive effects" on German firms.
This story was posted in the Tehran Times yesterday...and I thank Roy Stephens once again for sending it along. The link is here.


China's Biggest Banks Are Squeezed for Capital

China's banks are among the biggest and most profitable financial institutions in the world.
But the state-backed banks are also starved for capital, after an aggressive lending spree that was encouraged by the government.
In the last year, seven of the biggest Chinese banks tapped the markets for 323.8 billion renminbi ($51.4 billion) in new money, according to Citigroup estimates. Several financial firms are expected to raise another $17.7 billion in the next few months, with China's fifth-biggest lender, the Bank of Communications, accounting for $9 billion.
This story was posted in The New York Times on Monday morning...and I thank reader Phil Barlett for bringing it to our attention. The link is here.


US wades into China-Philippine standoff: Asia Times

China has beefed up its naval might around the Scarborough Shoal in the South China Sea, threatening a clash as the United States and Philippines hold joint military exercises in the vicinity of the potentially energy rich disputed maritime territory.

In a show of force, a state-of-the-art Chinese vessel, the Yuzheng 310, is now on patrol near the Scarborough Shoal, raising the strategic ante as its maritime standoff with the Philippines heads into a second week. Certain news reports have suggested as many as five other Chinese patrol vessels are now in the area.

In contrast, a lone US-made Philippine Coast Guard ship remains on alert in a lopsided faceoff with the Chinese fleet, while Manila's other warships joined the two-week joint drills, known as Balikatan (shoulder to shoulder) the US is leading near the contested islands.
In my Saturday column I ran an AT story about China and the Philippines being at daggers drawn...and this rather longish essay is a follow-up to that. I thank Roy Stephens for his final offering in today's column...and the link to this Asia Times story is here.


Jim Rogers on when to buy Gold, Chinese Bubbles and Fake Good News

This interview was posted over at the Default Parallels Plesk Panel Page website last week...and I thank Randall Reinwasser for sending it along. The link is here.


Jim Rickards: The Hidden Role of Gold at the IMF

The IMF completed their spring meetings last weekend amid communiqués and good feelings about what had been accomplished. There was optimism about improvement in the global economy albeit tempered by warnings that risks remained. Christine Lagarde, the organization's managing director, was upbeat about new financing pledges to help build an IMF firewall to prevent contagion from countries in financial distress.
Yet, behind this facade of goodwill were stresses between the rising economic powers, notably Brazil, China, and India, and developed economies in Europe. In the middle of these stresses is the United States, which is the only country in the world with veto power over IMF decisions. To understand what is driving the IMF today, it is necessary to look behind the jargon of the communiqués and examine the hardball politics actually playing out. These politics involve the U.S. response to the firewall, the relative voting rights of IMF members, and the hidden role of gold.
This short Jim Rickards essay was posted over at the US News & World Report | News & Rankings | Best Colleges, Best Hospitals, and more website yesterday...and is Randall Reinwasser's second contribution in today's column. The link is here.


Gold rush: California's weekend warriors discover prospecting

High gold prices have made prospecting the hottest new hobby for California's weekend warriors.
With the precious metal still selling for more than $1,600 an ounce even after a mild correction, amateurs and even a few pros are hiking mountain trails and panning streams in the Golden State, enjoying nature and, with any luck, turning a profit in the process.
"People are looking for fun that doesn't cost a whole lot of money," said Nancy Roberts, president of Central Valley Prospectors. "But maybe you can make some money."
This short piece was posted over at the Fox News - Breaking News Updates | Latest News Headlines | Photos & News Videos website on Saturday...and I thank Washington state reader S.A. for bringing it to my attention. The link is here.


Axel Merk Files to Market Gold ETF

Axel Merk, who filed last month for permission to market an ETF version of his Merk Hard Currency Fund, now plans to add a physical gold ETF to his firm's planned footprint in the exchange-traded fund industry.
The Merk Gold Trust, which will trade on the New York Stock Exchange's electronic trading platform Arca, under the symbol "OUNZ," will hold London "good delivery bars" as well as other gold bars and coins with a minimum purity of 995 parts per 1,000, according to the regulatory filing.
This short story was posted over at the IndexUniverse.com website yesterday...and I thank Randal Reinwasser for his third and final offering in today's column. The link is here.


Should we return to the gold standard?

Talking about the monetary system these days requires using unimaginably large numbers, such as $1 trillion, the total U.S. currency in circulation, and $10.9 trillion, the U.S. government debt held by the public.
The growing U.S. debt — $15.6 trillion, if you throw in Social Security and Medicare — is one reason people fear inflation and think that the monetary system is out of control. "Never in history have we run debts and deficits to this magnitude," says Lance Roberts, chief economist at StreetTalk Advisors. "We've never been here before."
It's one reason the gold standard is gaining renewed popularity. Rep. Ron Paul, Republican candidate for president, has long advocated a role for gold in monetary policy. Jim Grant, the erudite editor of Grant's Interest Rate Observer, has long made the case for returning to the gold standard. In layman's terms, the gold standard means hitching the value of the dollar to the price of gold. The amount of gold the country owns limits the amount of money it can print.
This rather surprising story was posted over at the News, Travel, Weather, Entertainment, Sports, Technology, U.S. & World - USATODAY.com website yesterday. True, there are a some inaccuracies in it...but if you let those pass, it's not a bad piece. This story is Washington state reader S.A.'s third and final offering in today's column as well...and the link is here.


Real gold versus a promise of gold

Financial advisers, institutions and portfolio managers are increasingly turning to gold to diversify client portfolios, protect against inflation and safeguard wealth.
Yet in the current financial climate and with a growing variety of choices available to clients looking to purchase gold, a word of advice is necessary: Not all gold investments are created equal.
In an attempt to safeguard client wealth, financial advisers may unwittingly lead clients to purchase a fractional-based investment, a gold-price-tracking vehicle or simply a liability of the issuer. There are risks in all these choices, of which advisers should be aware.
The author of this story, Paul de Sousa, is the executive vice president of Bullion Management Group Inc...and the link is here.


Gold in Quartz: 60 Troy Ounces

Here's a little eye candy to end today's list of stories. This beauty was discovered in Arizona back in 1989...and is now going up for sale. All the photos...plus the story of the find...is posted over at the Fine Art - Heritage Auctions | Auction - Buy - Sell - Value website. I thank reader "Dmitry G" for sharing it with us...and it's definitely worth the trip. The link is here.


The Funnies
The Wrap
Apparently, I'm supposed to be more angry about what Mitt Romney does with his money than what Barack Obama does with mine.
- Author unknown
Well, if you needed more proof that silver is at the centre of the known universe for JPMorgan
et al
, it was provided for you yesterday. I just don't know how much more obvious it has to get than that.
Options and futures expiry for the May delivery month in silver is upon us...as is the FOMC meeting over the next couple of days...so I'd guess that one or more of these events brought on the engineered sell-off in silver yesterday.
Is it over? Beats me. Can 'da boyz' take the price lower from here? Sure, but how many more spec longs are they going to be able to get to sell...or go short? There is a limit...and the law of diminishing returns sets in quickly when prices get this close to the bottom of the barrel.
But, as Ted Butler said on the phone yesterday, you can never underestimate the criminality of the sociopaths that are running this price rigging scam...and I heartily agree with that assessment. It will be over when it's over...and we won't know when that is until after the fact. Yesterday's low at 1:25 p.m. in New York sure looked like it to me...but as I've said on numerous occasions in the past, I wouldn't bet the ranch on it.
About ten years ago...GATA's secretary treasurer, Chris Powell, having finally discovered the forces that GATA was up against, said that we were fighting "all the power and all the money in the world". At the time we didn't know how right he was.
The gold price sold off a few dollars in Far East trading during their Tuesday, but caught a bit of a small bid at the London open earlier this morning...and as of 5:15 a.m. Eastern time, the gold price is basically unchanged from its closing price in New York on Monday...and the same can be said for silver as well. Gold volume is pretty light...and silver's volume is much higher, but a lot of that is roll-overs out of the May contract. Once you subtract out that volume, silver's volume is light as well.
The dollar index was down a bit in Far East trading, hitting its low price tick at
precisely
8:00 a.m. in London...and is now mostly unchanged from yesterday's New York close as well.
I haven't the foggiest idea of what will happen during New York trading today...so nothing will surprise me when I switch my computer on later this morning.
That's more than enough for one day...and I'll see you here tomorrow.
__________________
By using this site you are agreeing to the terms of our
disclaimer
.
Search Gold Speculator Articles
Similar Articles You May Enjoy
| | | |
| --- | --- | --- |
| Article Title | Source | Last Comment Date |
| US to Go to War With Iran, Oil & Gold to Spike: Jim Rickards | Ed Steer | December 30, 2011 |
| Use gold as the measure for currencies - Jim Rickards | YouTube Videos | November 14, 2010 |
| U.S. could be solvent again with gold at $5,500: Jim Rickards | Ed Steer | April 08, 2010 |
| Gold & Silver Daily: Jim Rickards' Gold Price Prediction Tops $10K - Nov 20, 2009 | Ed Steer | November 20, 2009 |
| Jim Rickards: If gold is money again, it goes to between $4,000 and $11,000 | YouTube Videos | November 19, 2009 |
Currently Active Users Viewing This Thread: 1

(0 members and 1 guests)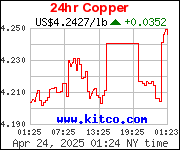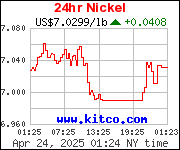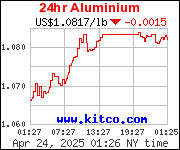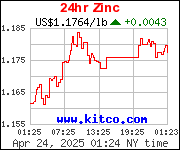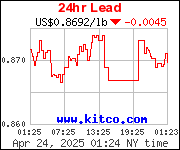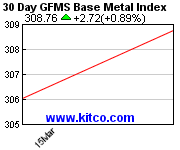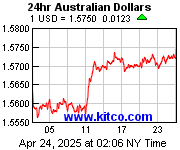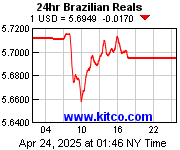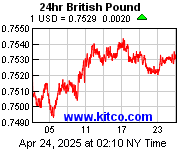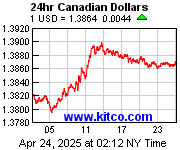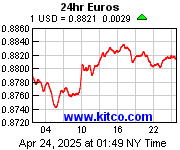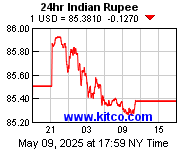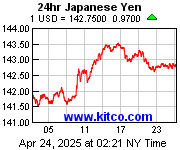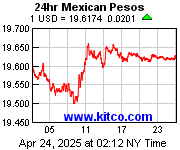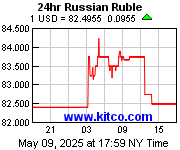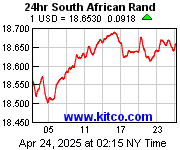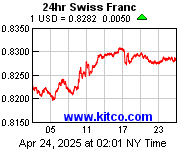 What do you think? Your comments are welcomed.
We appreciate all of your comments and feedback. You need to be registered in order to post comments. You can register here, or sign in. if you have a comment off topic you can post it in our forums section.